The Ordinary are championed for their key, potent, affordable skincare ingredients, tailoring them to our ever- evolving skincare needs! The Ordinary, the innovative brand from DECIEM, fulfils our wishes of a minimal, no-frills skincare routine with a range of pure, effective hero ingredients that work. Welcome to a new way of doing skincare – where YOU are in control! And to help you choose from the scientifically labelled products from The Ordinary, we've rounded up some of the bestsellers to help you on your journey to perfecting your skin care regime!
Exfoliation:
When skincare is concerned, it is always important to start with a clean, clear canvas. And it's never been easier, thanks to The Ordinary Salicylic Acid 2% Solution, a blemish-busting exfoliating serum that will unclog pores and clarify skin, with added soothing witch hazel. Apply all over for clear, radiant skin or use as a targeted treatment only where needed.
Toning:
If you're cleansing everyday and/or using an exfoliator frequently, a toner will be a welcome addition to your skincare regime. A toner essentially exists to rebalance your skin after a cleanse, which can tend to over strip your skin and dry it out. You should use a toner once to twice per day, and The Ordinary Glycolic Acid 7% Toning Solution is a good option for most skin types, except those with more sensitive skin. You may find you don't need to exfoliate as much when you use a toner containing glycolic acid, as it already has gentle exfoliating properties, so it's best not to overdo it. It's known to improve uneven skin tone and texture. Glycolic acid (an alpha hydroxy acid that exfoliates the surface of the skin), and botanical extract of Tasmanian Pepperberry reduce the irritation associated with acid use. The Aloe Vera and ginseng in this formula also soothe and boost skin radiance.
Hydration:
Thanks to the ever-increasing flow of new skincare trends and products on the market, it can be all too easy to get caught up in the latest and greatest new steps in our routine. Whether you're a slave to the trends or prefer a more pared-back approach to your skincare, however, everyone needs a moisturiser in their toolkit, no matter if you're dry, oily or anything in between.
The Ordinary Hyaluronic Acid 2% + B5 features three types of hyaluronic acid with different molecular weights. These penetrate deep into the skin for profound hydration and a plumped up, refreshed look. What's more, all skin types can use this product, particularly those who are drier, so if you're looking to achieve a smoother, more comfortable feel to your skin, this is the one for you!
The Ordinary 100% Organic Rose Hip Seed Oil: this lightweight, non-greasy, completely natural facial oil is the perfect all rounder for achieving radiant skin. The Ordinary Rosehip oil is a natural plant oil extracted without heat to fully preserve its nutrients – these include including linoleic acid and Provitamin A. It's the ideal option if you're looking for something that'll also reduce visible signs of sun damage, preventing uneven skin tone for a more radiant look.
For all skin types, The Ordinary Natural Moisturizing Factors + HA is perfect for dry to very dry skin yet it's also great for those who are oily, as it has a lightweight, non-greasy texture that won't leave an oily finish, thus suitable for oily or acne-prone skin. It's a common misconception that people with oily skin don't need to moisturise. You do, however, you just need to find a suitable formulation for your skin type. This non-greasy moisturizer contains special hydrating compounds found naturally in healthy skin. Hyaluronic Acid adds a deep hydration boost, preventing against surface hydration loss. Also available in the larger size Natural Moisturizing Factors + HA 100ml.
The Ordinary offers a number of targeted anti-ageing solutins: try The Ordinary Buffet, a water-based serum packed with active ingredients, from peptides to amino-acids. This plumps up the skin by boosting collagen, known for its elasticity and often found in our diet from foods such as meat connective tissues. This powerful multi-tasking treatment is able to tackle multiple signs of aging at once. It reduces fine lines and wrinkles, fades dark spots, hydrates, brightens, and promotes a firm, smooth appearance.
Targeting Specific Concerns with Serum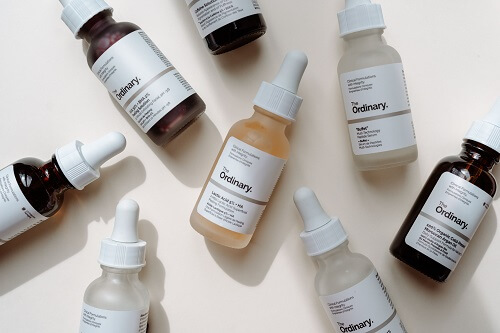 You may also like to check out The Ordinary Vitamin C Suspension 23% + HA Spheres 2% which will brighten, hydrate and smooth the skin's surface. And to turbo-charge your anti-ageing skincare routine, try hero ingredient Retinol with The Ordinary Granactive Retinoid 2% Emulsion or The Ordinary Granactive Retinoid 5% in Squalane (with added emollient Squalane): both are lightweight, non-irritating serums that will target fine lines and uneven texture. And for oily, blemish-prone and porous skin, The Ordinary Niacinamide 10% + Zinc 1% may just become your new holy grail! Zinc PCA helps control oil production whilst skin tone is evened out and clearer, brighter and smoother skin emerges.
And if you'd like to sample a variety of The Ordinary products, check out our fabulous bundles and sets, such as The Ordinary Routine Starter Pack, packed with favourites to introduce you to the brand, or The Ordinary No-Brainer Set, a trio of bestselling treats to kickstart your skincare routine!
Whatever your skin type, there's something for everyone! Check out The Ordinary here at BeautyFeatures.ie, and avail of Next Working Day Delivery Nationwide when you place your order before 2pm!
Recent Posts
It's almost that time of year again, and the flowers and chocolates will soon be upon us once more. …

Been to Paris recently? Lucky you! If you've taken a stroll through one of the world's most beautif …

2023's all about putting our health first, and that includes our haircare routines. Whilst your sk …