Decleor Prolagene Lift – Lift & Firm Day Cream - Normal Skin
Prolagène Lift – Lift & Firm Day Cream - Normal Skin 50ml
An anti-ageing moisturiser to firm and add radiance to skin
Who is it for?
Mature skin types
What is it?
This new anti-ageing moisturiser acts to help rejuvenate skin, acting on all dimensions of firmness to boost, protect, prolong and add radiance to skin. Free from mineral oils and colouring agents, this creamy, pearly mousturiser sits comfortably on the skin.
Key active ingredients include L-PROLINE complex to help reactivate the skins firmness, Iris Essential Oil to boost the skins elasticity, high and low molecular weight Hyaluronic acids to fill in wrinkles on the surface and deeper down, white sage to help stimulate the cell's defence proteins, botanical tensing agent to tighten and smooth the skin and light-reflecting particles to add instant radiance to the skin.
This moisturiser leaves skin firm and luminous with contours lifted and wrinkles visibly diminished.
Also available in a rich texture for dry skin.
How will I use it?
After cleansing and toning, apply AROMESSENCE™ Iris Super Serum and then your moisturiser to face and neck.
Ingredients
Active ingredients:
* L-Proline Complex - a combination of the L-Proline Molecule and Soy Extract to act on collagen and boost fibroblasts, helping reactivate skins firmness.
* Iris Essential Oil - helps protect fibres against glycation and stimulate the quality of elastic fibres, boosting the skins elasticity.
* Hyaluronic Acids – a combination of low and high molecular weight Hyaluronic Acids to fill in wrinkles on the surface and deeper down.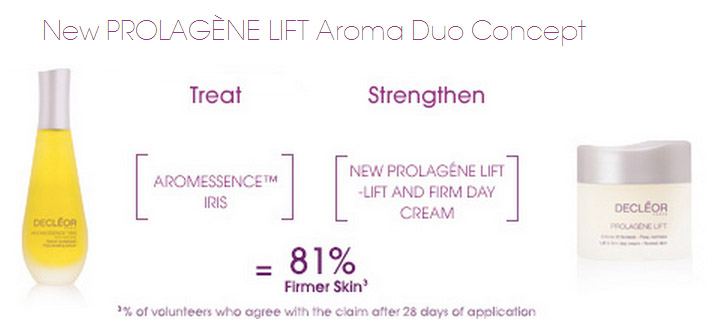 What is Decleor Prolagéne?
Introducing a new and innovative anti-ageing range and facial techniques to provide invisible support for firmer, lifted skin.
The new PROLAGÈNE LIFT range from Decleor combines their extensive knowledge of plant-based active ingredients with Essential Oils to develop the latest anti-ageing innovation; L-PROLINE Complex.
Decleor have revolutionised the skin reparative molecule, L-PROLINE found in their iconic Prolagene Gel, to develop a new anti-ageing complex that lifts and firms. Decleor have developed the advanced L-PROLINE Complex; an innovative formula that contains L-PROLINE and soy extract to help stimulate collagen production.
The new complex works deep into the skin by specifically targeting collagen fibers and fibroblast cells to create a lifted and firmer skin feeling. The result is skin supported by an intelligent composition of youth boosting active ingredients.