Let's talk about everyone's favourite blonde haircare! A popular line for maintaining a brighter hue, there's an extensive selection of products to suit various hair types. But what is Kérastase Blond Absolu used for, you may ask? The Blond Absolu line neutralize brassiness, removes unwanted yellow tones and deeply nourishes and repairs damaged hair from bleaching, so if you're a blondie, read on as our Beauty Writer Shannon takes you through every product in the range!
Kerastase Blond Absolu Bain Ultra-Violet 250ml
You may be wondering "Which Kerastase shampoo is best for me?" .If you want to keep your blonde looking cool, this will be right up your alley. It's most ideal for cooler blondes and grey hair. It's an iridescent purple shampoo for lightened or highlighted hair to neutralise brassiness and unwanted yellow tones, thanks to its added ultra violet pigments. It also contains a highly concentrated Hyaluronic Acid, which fills and heals fibre wounds from within to nourish the cuticle, strengthening it and preventing breakage. Edelweiss flower will also soften the fibre and protect against damage. How often should you use purple shampoo? We recommend at least once per week, alternating between it and your regular shampoo.
Kerastase Blond Absolu Bain Lumiere 250ml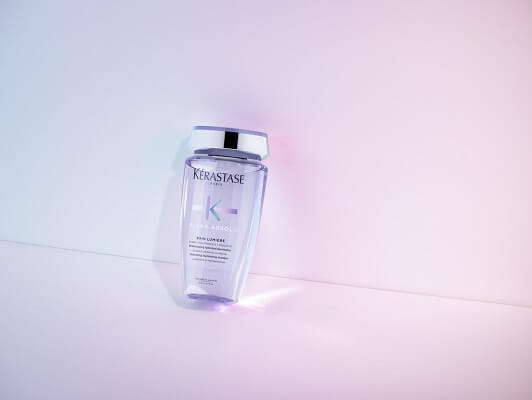 If you require a more lightweight formula for your shampoo, this will gently cleanse the hair fibre and is ideal for lightened, bleached, grey or light faux-blonde hair. It soothes and hydrates hair without weighing it down, and even detoxifies hair from pollution and removes dulling agents. Like the aforementioned shampoo, this one is also enriched with Hyaluronic Acid and Edelweiss flower, so you'll be getting the same benefits such as nourishment and protection against breakage, just in a lighter formula!
Kerastase Blond Absolu Bain Cicaextreme 250ml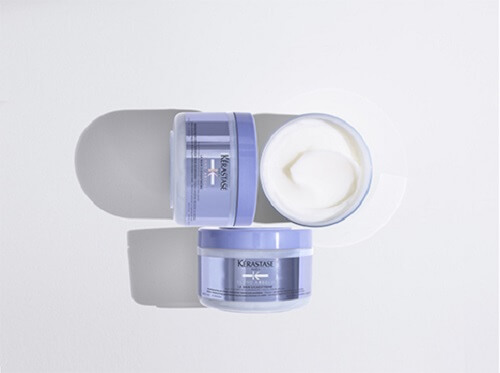 This is an ideal post-bleaching shampoo-in-cream for lightened hair, essentially providing a bathing experience for treated and sensitised tresses. Hair will be indulged in this dense foam that has a lightweight feel. Again, this features the line's key ingredients of HA and Edelweiss Oil, so elasticity will be restored, hair strengthened and shinier, minimising frizz and split ends, too! We recommend using as a combination with Bain Ultra-Violet for your first shampoo, or alone in two applications.
Kerastase Blond Absolu Fondant Cicaflash 250ml
If you're looking for a product that has the rich performance of a mask but the lightweight finish of a conditioner, look no further than this gem! Hair will be nourished and given deep nutrition whilst softened and strengthened. This is ideal for all shades of faux blonde hair, and if you have finer hair, it won't weigh it down, leaving you with soft and moisturised tresses that are protected against further breakage and erosion. What's more, the formula is gentle enough for daily usage. Top tip: If you have much thicker hair, you could also apply a small amount of Cicaflash on dry ends!
Kerastase Blond Absolu Masque Ultra-Violet 200ml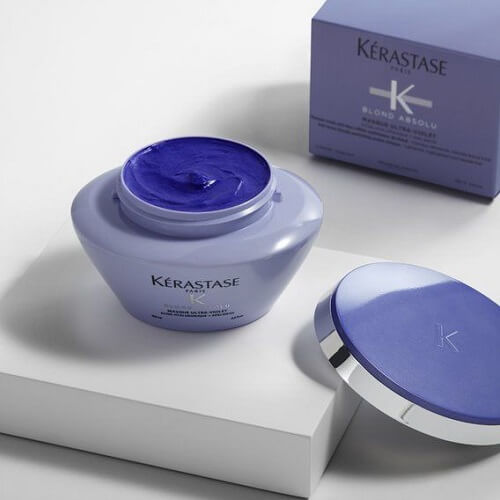 If you're wondering "which Kerastase mask should I use?" this mask is ideal for you if you're using the Kerastase Blond Absolu Bain Ultra-Violet. It'll be a key step in your Blond Absolu Ultra Violet haircare routine. Use this in combination with your shampoo once a week or as needed to maintain and freshen up your blonde. With the help of this rich purple mask, you'll be on your way to a cool hue that's protected from daily oxidation and pollution particles and will be left with luminous, hydrated and restored hair. It's non, staining too, so no pesky purple streaks here – yay! Leave in for 5 minutes, or 10 for extra neutralisation.
Kerastase Blond Absolu Masque Cicaextreme 200ml
A mask is a welcome addition to any haircare regime, but it's particularly essential for anyone who has colour treated, sensitised hair, especially blondes. If you're a blonde, you likely know all too well the toll that bleaching can take on your strands. This mask is designed to be used post-bleaching, so if you've had a recent trip to the salon, this is ideal for you. This gel-in-cream masque deeply strengthens fibre structure to reconstruct post-bleached hair. It'll reduce porosity and seal open scales for a healthy hair fibre. The results? Hair that is restored, stronger, shiner and smoother!
Kerastase Blond Absolu Huile Cicaextreme 100ml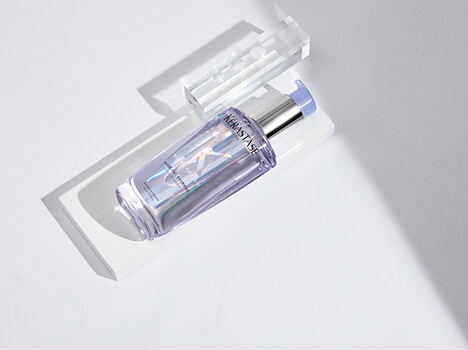 If you're a fan of the original Elixir, you'll love this oil designed especially for blonde hair! Perfect for post-bleached hair, it offers heat protection up to 230°, sealing your hair's cuticles and reducing split ends. As the hair fibre is nourished from the inside, you'll have smooth, soft strands with a lightweight formula that won't weigh it down. Simply apply to 1-2 pumps to damp hair and blow-dry or air-dry. To use on dry hair, apply one pump on the lengths and ends.
Kerastase Blond Absolu Cicaplasme 150ml
Enriched with Hyaluronic Acid and Edelweiss flower, this leave-in cream seals split ends and smoothes the hair fibre to control frizz. It's an ideal heat protectant with protection up to 230°C. Lightened hair will be fortified, softened and made luminous, whilst UV filters protect against daily oxidation and pollution. It can be used on towel dried or dry hair, and can also be used as a serum overnight to regenerate deeply regenerate damaged hair fibres.
Kerastase Blond Absolu Cicanuit 90ml
This cream-in-gel leave-in serum is ideal for all types of blonde hair and restores bleached fibres overnight. Hair is recovered as 55% of damage from bleaching is erased, leaving behind replenished strands. This formula contains a high concentration of Hyaluronic Acid and Edelweiss flower which will seeks to reduces breakage, plump the hair and seal split ends. Just apply 2 to 4 pumps on lengths and ends without rinsing before you go to sleep.
Check out the full range at BeautyFeatures.ie, we're Irish owned and offer Next Working Day Delivery Nationwide from our warehouse in Co. Wicklow when you place your order before 2pm!
Recent Posts
It's that time of year again, and here at BeautyFeatures.ie, we're all ready for Black Friday 2023! …

Hands up if you're ready for mince pies, carols and NEW HAIR PRODUCTS FROM YOUR FAVE BRANDS! Amongs …

The first signs of aging can be a disheartening experience for many, especially when they start ap …