With rich roots (no pun intended) in the haircare industry, Redken was founded in 1960, when bleaching and teasing had taken its heavy toll on founder Paula Kent's tresses. Over sixty years since the brand's debut, Redken's hair heroes have been game-changing for strands around the globe! And it keeps getting better – since Redken's relaunch, they've adopted a sustainable and inclusive approach, and we're beyond excited to share the range with you.
Not only are Redken's shampoo and conditioner formulas optimized with a balanced pH to respect and maintain the integrity of the hair, they're also now made from at least 93% recycled packaging, meaning we can rest guilt-free using our favourites! Here at BeautyFeatures HQ, to celebrate Redken as our brand of the month, we'd like to take this opportunity to take you through our guide to these newly packaged, hair-saving heroes that you'll also nab a 20% discount on!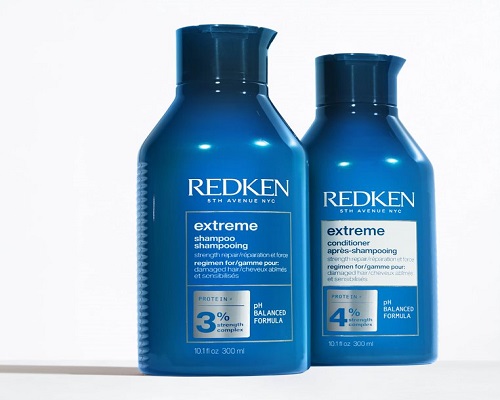 Pretty much known as the Redken shampoo for damaged hair, this is your go-to for weakened, broken strands that are much in need of repair. This is a Redken shampoo with protein. It's formulated with Redken's Strength Complex, which containing Amino Acids and Arginine which will strengthen and fortify the hair, and Citric Acid to condition and smooth your strands. Simply combine with your Redken Extreme Conditioner, and we recommend following with Redken Extreme Anti Snap to complete your Redken haircare routine!
Redken Acidic Bonding Concentrate Shampoo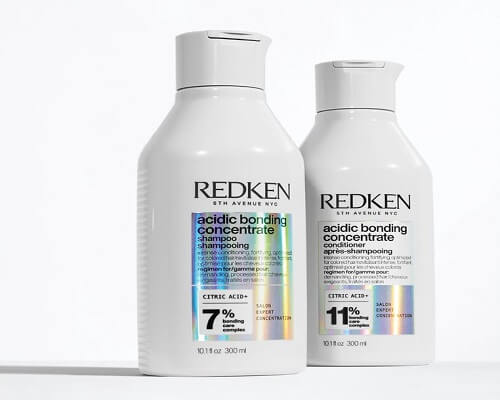 If you're looking for a Redken sulfate-free shampoo that'll also seek to repair damage tresses, this is it! The absence of sulfates in this shampoo means that it'll still gently cleanse away any dirt or impurities from your hair, but without stripping too much moisture, which can sometimes leave the hair dry. It's Redken's most concentrated all-in-one formula, so you'll get a reparative, colour-safe and conditioning shampoo in one! This one, like Redken Extreme, also features Citric Acid and a concentrated bonding care complex that reinforces weakened bonds within your hair to improve its strength. This pH-balancing shampoo is specifically formulated with an acidic pH to protect your strands against the unhealthy toll that colouring, heat styling tools, and even water can take. Just combine it with the Redken Acidic Bonding Concentrate Conditioner and Redken Acidic Perfecting Concentrate Leave In Treatment for the triadic form of haircare heroes!
Redken Volume Injection Shampoo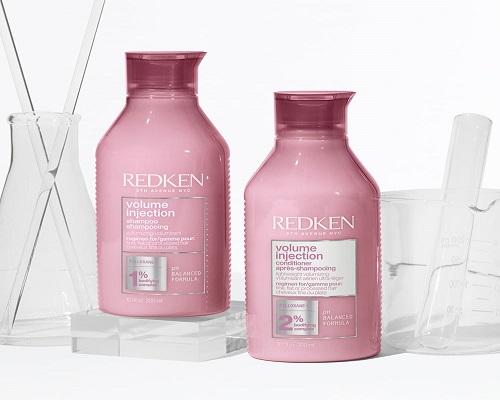 The Redken shampoo for fine hair, this is suitable for anyone who wants voluminous, fuller and thicker-looking locks. Formulated with Redken's Bodifying Complex with Filloxane, this shampoo helps to provide instant volume to finer, flatter and/ or processed hair. It offers a light and gentle hair and scalp cleanse which'll create lift and body, all whilst giving your hair a polished appearance, thanks to its silicone polymers! Why not pick up the Redken Volume Injection Gift Set for a trio of fabulous hair treats?
Redken Color Extend Magnetics Shampoo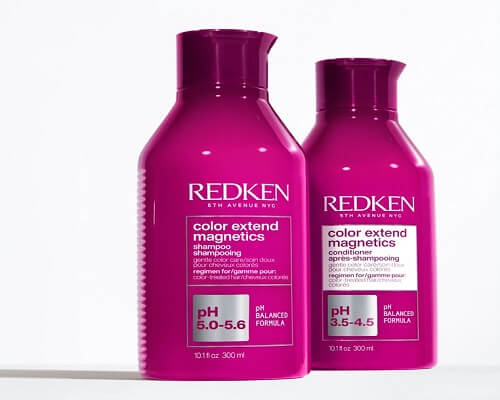 A total must for anyone who loves to experiment with fun new shades, this Redken shampoo for coloured hair is another sulfate-free favourite. The absence of sulfates and presence of a mult-targeted delivery system with key ingredients means this shampoo will help to promote healthy hair and reduce colour fade, so you can extend your colour and time between salon visits, hence the name! But that's not all…The Color Extend Magnetics System is acidic, helping to balance Ph levels of the hair, so your colour, shine and vibrancy are in safe hands. Pair with the matching Redken Color Extend Magnetics Conditioner for the ultimate regime for colour-treated tresses!
Redken Color Extend Blondage Shampoo
A holy grail for blonde bombshells (and a personal favourite of mine!) this Redken toning shampoo will be a key part of maintaining a clean hue. A purple shampoo that should be used once to twice per week, the presence of Pure Violet Pigments help to eliminate brassiness in just under five minutes, whilst other key ingredients include Salicylic Acid, Wheat Proteins, Amino Acids & Glycerin to strengthen and repair blonde hair from the core, and Triple Acid Protein Complex to help brighten and strengthen blonde hair from the first wash. It's also the 2019 Winner for the Allure Best of Beauty best shampoo category, so it's certainly a tried and true staple for golden tresses all over the world – don't forget to pair with your Redken Color Extend Blondage Conditioner!
If you're suffering from dry, brittle hair, stop what you're doing and stock up on this staple! This award winning, conditioning shampoo is formulated with Redken's Moisture Complex with Argan Oil to soften and moisturize hair from root to tip. When it's combined Redken All Soft Conditioner and Redken Argan-6 Oil, it provides 15x more conditioning, leaving your tresses soft, shiny and manageable once again. Ditch the straw look for silkiness instead. Let the ingredients work their magic as Soy Protein adds structure by sealing in moisture and boosting body, Arginine helps condition hair by stimulating the scalp and Argan Oil penetrates the hair fibre to deliver shine and softness.
Kiss goodbye to an oily scalp! This Redken shampoo is suitable for all hair types, but will particularly benefit those with oilier hair. This shampoo helps to cleanse oily scalp, balance hair's pH and soothe irritation, all while removing product build up and residue. This scalp cooling cleanser is formulated with Chelators for instant results, and the use of peppermint allows for an invigorating, refreshing and sensorial experience.
Redken Blondage High Bright Shampoo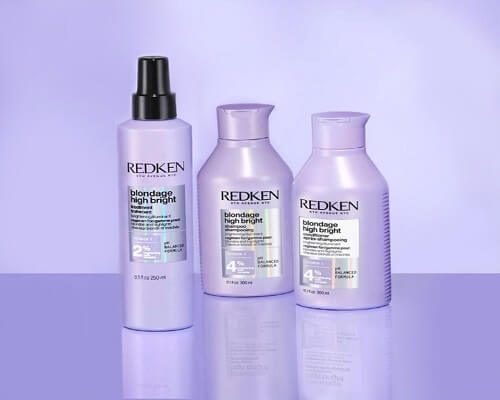 This Redken purple shampoo is an ideal solution for both natural and colour-treated blondes who lose lightness and brightness in the weeks between visits to the salon. It features a new blonde haircare system powered by Vitamin C and Redken's Brightening Care Complex. This cleanser will seal cuticles and fill your hair porisity to banish dullness and brighten your strands. It's also part of a three-step system, of which the shampoo is the second stage in your haircare routine. The first step is the Redken Blondage High Bright Pre-Treatment (which should be left on the hair for 5-10 minutes before shampooing) whilst the third step is the Redken Blondage High Bright Conditioner. Top tip: this system should be used approximately two weeks after colouring to achieve maximum results!
Redken Color Extend Brownlights Blue Toning Shampoo
This Redken toning shampoo is essentially a brunette shampoo. This color deposting blue toning formula is suitable for brown hair, and its progressive toning system is ideal for preventing and neutralising brass on both highlighted and natural tresses. Citric Acid strengthens and repairs hair from the core. It's sulfate-free, so it's ideal for a gentle cleanse whilst preventing colour fade and maintaining your shade's vibrancy. Whilst blondes need an anti-yellow shampoo, an anti-orange shampoo is more ideal for brunettes, wherein the Active Blue Pigments cancel out any brassiness. For colour-treated brunettes, we recommend using immediately after a salon service to prolong cool tones, and for natural brunettes, we recommend using as and when needed to keep orange undertones under control. Use as part of a complete system with the Redken Color Extend Brownlights Blue Toning Conditioner for best results.
Redken Colour Extend Graydiant Shampoo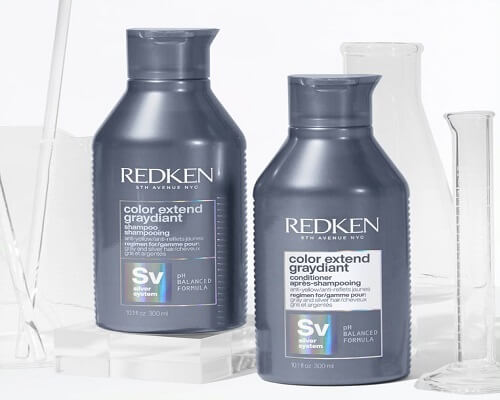 Introducing the Redken shampoo dedicated to grey and silver hair, this formula features Amino Acids and Custom Direct Dyes which brighten and enhance silver tones for a radiant finish. These Amino Acids also strengthen the hair and smooth any rough textures. This Anti-yellow toning shampoo for grey and silver hair will soften and add shine to your strands thanks to Citric Acid, and the Pure Violet Pigments will tone and remove any unwanted brassiness for a cool, clean hue. We recommend using it once to twice per week with the Redken Colour Extend Graydiant Conditioner for maximum results.
Redken Frizz Dismiss Shampoo & Conditioner 500ml Duo
If you're looking to tame frizz and dryness, this This anti-humidity pair works in synergy to deliver smooth and sleek locks. This anti-frizz shampoo offers a gentle cleanse with a sulfate free & sodium chloride free formula, making it suitable for colour-treated hair, too! The formula also features Redken's Smoothing Complex featuring sustainably sourced Babassu oil to tame frizzy hair, increase smoothness and enhance shine. With weightless frizz protection and an all-day shield against humidity, you'll be well on your way to taming those unruly tresses!
With such an extensive range of options, there's a Redken Shampoo and Conditioner for every hair type – shop yours at BeautyFeatures.ie!
Recent Posts
Here at BeautyFeatures.ie, we're all about supporting Irish and bringing you your favourite hair an …

Double cleansing has become increasingly popular, and Dermalogica's Micellar Prebiotic Preclean …

The sun has emerged, ice cream's on tap and we don't know about you, but here at BeautyFeatures.ie, …