Makeup brushes are very like a drawer full of fancy cutlery – there's so many of them but you really only know what one or two are actually for. And unlike a silver service you can't just start with the smallest one and work your way in (like who hasn't done that at a Wedding or Swishy Event?), there are various brushes designed for a specific use in the pursuit of pixel perfection and sometimes it can be hard to know where to start. But becoming your very own makeup professional is definitely worth it, so let's reveal your inner expert with a list of the most common make-up brushes and their uses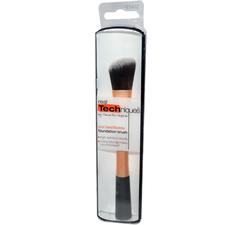 Foundation Brush
The foundation brush is as its name suggests specifically for the application of liquid foundation and concealer. Featuring tightly packed bristles of different lengths that work to achieve a smooth, non-streaky, even coverage. For a flawless finish apply foundation to the face and then use the brush to spread and blend or alternatively apply the foundation directly onto the brush and then smooth over the face, beginning at the nose and working your way out. The second method tends to use less product and ensures a more precise application.
Powder Brush
As one of the largest make-up brushes, the powder brush serves a wide variety of purposes. Soft, full and rounded, ensuring it collects powdered products evenly, the powder brush is perfect for distributing powder evenly to the face, neck and décolletage. Try patting the brush into your powder product, dust off any excess and apply to the area of choice with sweeping and circular motions. If you're a fan of shimmers and bronzers this brush is a must have in your makeup brush tool kit.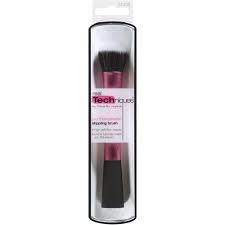 Stippling Brush
Sometimes known as a duo-fibre or skunk brush the stippling brush is a multi-tasker in that it's perfect for the application of liquid foundation, bronzer and blush. The bristles are tightly packed together to deliver a smooth, airbrushed and highly defined finish. Featuring a flat, circular, feathery head, the stippling brush provides a lightweight buildable coverage that won't remove any of the make-up you've already applied, making it perfect for layering.
Blusher Brush
As its name suggests a blusher brush is designed for applying your blush. Featuring fine, gentle fibres with a rounded head, the blusher brush is ideal for the application of powdered colour to the apples of the cheeks and blending it evenly up along the line of your cheekbone. Don't forget to smile so you can locate them easier!
Contour Brush
Remember our blog Make-up Tips for an Instant Face Lift that gave some tips on contouring? Well this is the brush that will help you achieve that Kim Kardashian airbrushed perfection. Featuring slanted bristles that are designed to mimic the angle of your cheekbones, it's the ultimate tool for blending, highlighting and shading using either a bronzer or shimmering powder.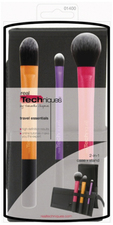 Eye Base Brush & Angle Eye Shadow brush
There are various brushes that can be used for eye shadow, but these two are the most widely used. An eye base brush is perfect for delivering colour to the entire eyelid; it's wide, flat and short with a bevelled edge to ensure a flawless application without pulling on the eyelid. Once you've perfected your base colour follow up with the angled eye shadow brush (or contour eye shadow brush) to layer colour and create firm distinct lines along the crease of the eyelid.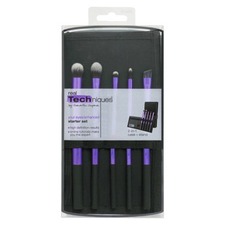 Lip Brush
Want to achieve a perfect lip line but don't have a lip liner handy? Well fret no more lovelies as the lip brush is designed to deliver a precise application and lining of the lip. Featuring a sculpted tip and short and firm bristles that allows a flawless overall coverage and precise lining, a lip brush is a must have and it's definitely a more hygienic method to apply lipstick particularly if you tend to share with housemates, friends or sisters.
Ok ladies so we've listed a few of the absolute must have make-up brushes that should take pride of place in your makeup toolkit. However there are many more that as you build up your collection that will further enhance your ability and creativity when it comes to reproducing makeup looks that you once thought would be impossible to achieve. See our range of make-up brushes from Real Techniques from a Starter Kit to a Core Kit and beyond, learn how to apply your makeup like the professionals – and let us know how you get on! It's fun once you start!