Did you know that your makeup bag is full of tricks and treats to smooth away the years, mask the effects of long nights and early rises and may just fool the light into subtracting 10 years? Professional makeup artists practice the art of 'contouring' and 'highlighting' in order to define features and create beauty statements, from the catwalks of London Fashion Week to the Awards season just passed. With just a few tricks of the trade you too can master the art of creating a more youthful, professional look in an instant. Here's how:
Trick #1: Concealer!
We highly recommend Sheer Cover Studios Conceal & Brighten Trio, providing a beautifully even, flawless coverage, camouflaging fine lines and other skin imperfections in an instant. Lightly apply using a concealer brush if possible as the finger tips have oil on them and won't allow for a smooth balanced application. In curved, u-shaped strokes, blend to right above the cheekbones, going a little further out than those awkward dark spots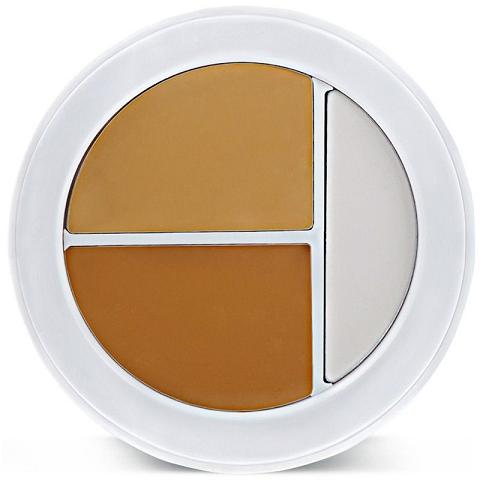 Trick #2: Reshape your brows!
As Jim Carrey once said "Behind every great man is a woman rolling her eyes" And as the eyes are the windows to the soul it's safe to assume that the eyebrows are the window frames! Did you know that having the right shape and shade (not too dark) can open up the eye area, creating a fresh, youthful and less fatigued look. We love Model Co – Designer Eyebrow Kit. Create the perfect arch with this array of shaping and grooming tools that colour, shape and define your brows to perfection. The all-in-one designer brow kit contains a selection of four brow stencils, duo brow wax and powder, two angled head brushes, a grooming wand and precision slant tweezers in a sleek, chic compact.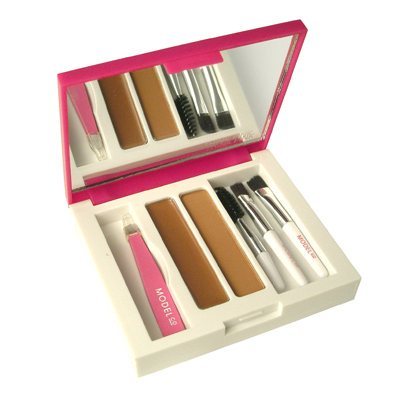 Trick #3: Learn to contour!
Did you know that contouring is the new black! Contour a sharper chin line with a subtle bronzer that comes in about two shades darker than your usual foundation or natural skin tone. Try Clarins Bronzing Duo using a contouring face brush fuse the shades together and apply along the jaw line and beneath the chin. This will make your face appear slimmer and the under chin area tighter and firmer!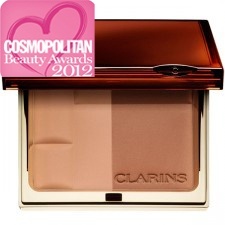 Trick #3: Highlight your assets!
To achieve naturally glowing skin, you have to highlight in all the right places. Using Sheer Cover Studios Deluxe Kit apply your concealer and foundation and Sheer Cover Sunkissed Bronzing Minerals (ensuring its 2 shades darker than your natural skin tone). Gently dust all over the face with the main focus on the forehead, cheekbones and along the jaw line. Blend lightly to ensure a balanced coverage. Further apply Sheer Cover Sunkissed Bronzing Minerals to the cheekbones, using light strokes sweep from the corners of your forehead, right above the outside corners of the eyebrows. Dust a very thin layer of bronzing minerals to your nose as you concentrate on the nose bridge. The Sheer Cover Bronzing Minerals delivers a shimmering glow to all the right places! Contouring and highlighting your very best features!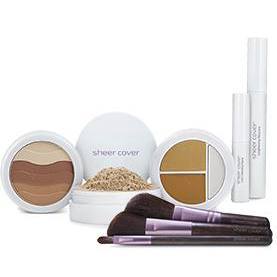 Trick #4: Go neutral with eye makeup!
Stick to light colours and a more neutral palette such as Sheer Cover Eyeshadow Palette in Nude, which includes beiges, browns, and use a black to define certain areas. Highlight below the brow and then accentuate the corners of the eyes. Bring boldness to your eyelids so that it minimizes the focus on any dark circles or puffiness. Apply a medium shade and stay in between the crease of your lid and the highlighted area beneath the brow bone. Then, take a darker colour and shade on the crease line, blending above and below the crease to give your eyes added dimension. Finish the look with liner and mascara.