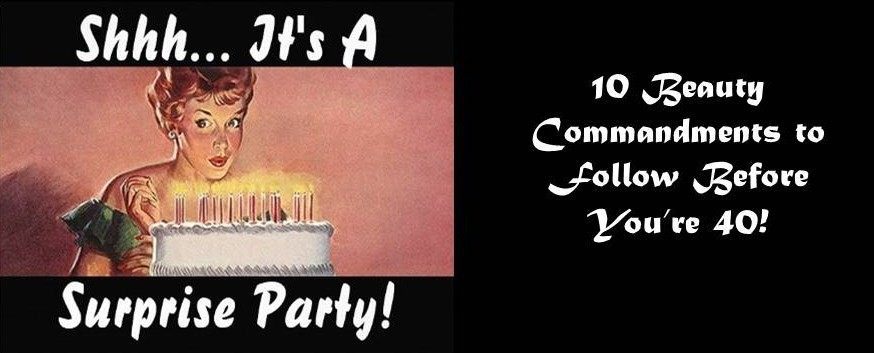 "If only I knew then, what I know now". How many times have I heard this statement before another sage piece of beauty advice about growing older passes my ears? There are so many beauty rules that don't apply as you sail through your 20's and 30's, only to discover at 40, that maybe you should have started cleansing and exfoliating, or that you definitely should have invested more in your skin care serums than your handbag (but it was a Mulberry satchel after all!) So in the spirit of giving I've compiled the following 10 beauty commandments to ease you into your 40's and beyond.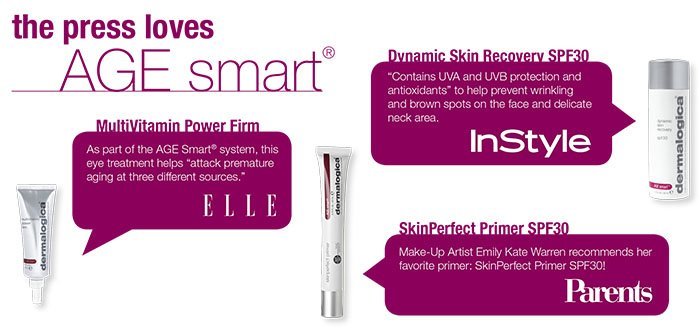 BEAUTY COMMANDMENT #1 Ensure you use proper skin care
In your 20's and maybe 30's you may have begun to introduce the bones of your skin care routine into your daily life, but as we approach 40 it's crucial to ensure that you have chosen and use the correct cleanser, toner, serum, moisturiser and eye cream for your skin type and skin issue (if present). We would also recommend that you use a dedicated exfoliator two to three times a week, to encourage a radiant, glowing complexion. Discover: Dermalogica Age Smart
BEAUTY COMMANDMENT #2 Step away from the tweezers!
Do you know the shame of the over plucked brow? Thank goodness for Cara Delevinge and her bountiful brows, and the freedom it has given many women to embrace the brow! The brow hair thins as we age so learning how to fill in the brow like a pro is a worthwhile investment. There is a reason that makeup artists the world over see the brow as the main defining feature on the face, so practise the brow and if the urge to pluck is too great, restrict yourself to plucking the underside of the brow only. Discover: Tweezerman - Slant Tweezer - Black
BEAUTY COMMANDMENT #3 SPF all day, today & everyday
No longer can ignorance be used as an excuse when it comes to protecting your skin from the damaging effects of sun exposure. Not only do UVA & UVB rays cause superficial damage through sun burn and over exposure but it's also proven that it doesn't have to be a sun filled day for the sun to inflict damage on your skin. So protect your skin with an SPF, rule out skin cancers and ageing through sun damage by being sun smart. Invest in a good sunscreen in the summer and ensure your beauty and skin care products feature the protective benefit of an SPF all year round. Discover: Decleor Hydra Floral Multi Protection BB Cream SPF15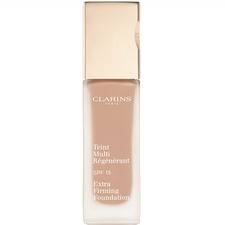 BEAUTY COMMANDMENT #4 Blend, blend, blend - did we say blend?
Learning to blend your makeup so it appears flawless and streak free is a beauty skill every woman should learn. The perfect blend will ensure "cake face" is a term that does not apply to you, because as we get older blending is vital to ensure that we don't accidently enhance fine lines and wrinkles with our foundation. Discover Clarins Extra Firming Foundation SPF15.
BEAUTY COMMANDMENT #5 Love your lippy
Own your 40's by wearing the lipstick you've always wanted. The right shade has the ability to lift your entire look and mood in a couple of seconds. As we get older many of us tend to stick with softer more neutral colours, but be bold, experiment, find the right shade for you, are you a warm? Are you a cold? And always carry your favourite lippy in your bag for an instant pick me up!
BEAUTY COMMANDMENT #6 Be Buff with a weekly DIY Mani!
Win the fight against weak, brittle and bitten nails by pampering yourself with a weekly DIY Mani. Take time out, this is get the nails in order time; this is make a time to file and buff and polish those nails into submission time. A professional DIY Mani is totally achievable and your nails will become stronger and soon it will be an enjoyable habit and not a beauty chore.
BEAUTY COMMANDMENT #7 Be happy
Get those thoughts focused on the bright side. For many women as we approach 40, hormonal shifts create havoc on our positivity and mood. Take time to cultivate a positive mental attitude, laugh a lot and laugh out loud and chose to be happy, real positivity can greatly influence how you look and feel. Try to think that the glass is half full and not half empty and be mindful and thankful for all the good in your life. And even when you don't want too – smile!
BEAUTY COMMANDMENT #8 Are you a sleeping beauty?
Boost those energy levels, encourage that skin cell renewal and boost your immune system with a good night's sleep. Beauty sleep is real and free and you've probably already noticed that when you skimp on sleep its reflected in your face. Skin sags and loses its lustre and blood vessels dilate causing the look of dark circles. It is recommended that we sleep for at least 7 – 8 hours per night for maximum health benefit and it is vital for the body and mind to be at rest. This sleep requirement is all the more important as we approach 40 as this is the time when your body relieves itself of stress, cells renew and mood balances.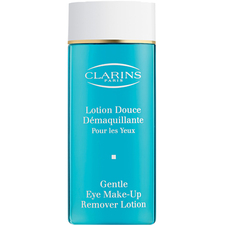 BEAUTY COMMANDMENT #9 Make use of make-up remover
Put the wash cloth down, abrasively rubbing your makeup off after a night out will tug and pull at the skin. Support the health of your skin by making sure you use a gentle yet effective makeup remover, this brilliant cleanser will remove every last trace of your night out and ensure the skin is left cleansed, clear and pores unclogged. Discover Clarins Gentle Eye Make-up Remover Lotion
BEAUTY COMMANDMENT #10 Lead a healthy lifestyle
You may have entertained regular exercise in fits and starts through your 20's and 30's but as 40 approaches keeping yourself active is not only physically beneficial but also plays a huge part in uplifting mood and releasing those good endorphins. As we get older the key to a healthy vibrant and beautiful you is moderation, we know that true beauty starts from within and is reflected, so what we put into our bodies will eventually show up along the time track. We can spend a small countries GDP on anti-ageing serums but if we don't get this part right, if we don't aspire to a healthy lifestyle then we are not going to achieve our full beauty potential. Read our blog Women's Wellness at Beautyfeatures.ie for further tips on living well.
Do you follow any of the above beauty commandments? Which do you find the hardest to commit to?