If you've noticed your hair thinning after childbirth then you're not alone, actually up to 75% of new mums notice an increase in hair shedding and loss. On average 1 in 3 women will experience female hair loss at some stage in their lives and during Pregnancy the rise in hormones particularly Oestrogen puts your hair strands into a more active state of growth than at any other stage in your life. This is the very reason that during pregnancy your hair appears fuller, healthy, and ever so shiny, though six weeks after delivery as the hormones are returning to a more normal state the growth rate of your hair falls and shedding begins quite rapidly. This cycle of shedding and loss may last anywhere from three months to a year and in some cases can be the trigger for female pattern hair loss, commonly known as Androgenic Alopecia.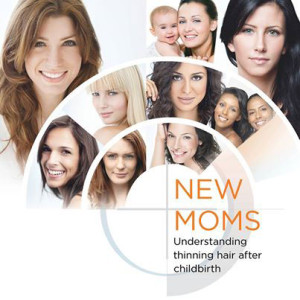 Many expectant mums are conscious of preventing stretch marks, or of maintaining a nutritious and balanced diet, and of avoiding hazardous foods and products in order to promote optimal prenatal care. But many women forget to address the changes that may appear in their hair post pregnancy. Female hair loss is often a misunderstood topic and one in which there is a social stigma attached, as it is seen as primarily a male issue. However unfortunately more education is needed to prepare women for the potential hair shedding and continuous loss that can occur after childbirth – and at a time when your adjusting to a being a new mum and taking on a new identity, knowing that hair loss is a normal part of the post-partum period and that there are solutions you can undertake, like NIOXIN, can eliminate the unknown and put you on path to more thicker, denser more healthy hair.
NIOXIN and its ground-breaking skincare approach to hair loss offers a 3-step system widely endorsed by OB/GYN's the world over and in particular "The Mommy Docs"; Dr.Yvonne Bohn, Dr. Allison Hill and Dr.Alane Park. Three eminent OB/GYN's who star in the Oprah Winfrey networks "Deliver Me" TV series that is now into its third season in the USA. Not only do they endorse NIOXIN but they champion it's use within their individual practices and have sung its praises through their own personal experience. This truly is skincare science for new mums at its very best. The NIOXIN 3-step system consists of a cleanser, revitaliser and scalp treatment, customised to your individual hair needs, delivering a personalised hair and scalp treatment plan just for you!
FIND YOUR IDEAL NIOXIN SYSTEM
"A dedicated hair care regime that protects and strengthens hair and gives a fuller, thicker appearance is a good idea, helping you make the most of the hair you have and helping prevent unnecessary hair loss." Dr. Yvonne Bohn.
So let's take a look at the 3-Step System Kits and find the hair loss prevention solution that addresses your particular concerns and needs. Click on each system kit for full information.