The ever so chic world of fashion and beauty is a fickle one, think of how big 'balayage'(dip dyeing your hair) was not so long ago or how a deep side parting was the prerequisite for all fashion forward women last year.
But if there's something to be learnt from all the Fashion Weeks, celeb make overs and fashion bible front covers is that there are some beauty trends that just never date! Regardless of the year, the season, and in some cases even the decade, these timeless classics continue to grace and dictate the world of gorgeous glamazons and all women; with influences appearing anywhere from the runways to the supermarkets, from the hair salons to high street retailers. Here are a few of our favourite 'timelessly-on-trend' beauty classics chosen just for you!
BEAUTY TREND - SLEEK AND SMOOTH HAIR

it's not often you see frizzy flyways on the catwalk, and this year's hair looks were no different. Paris Fashion Week saw models pounding the catwalks for Nina Ricci, sporting elegantly Parisian styled looks with sleek, shiny hair with a touch of 60's height applied at the crown. We adore this trend because it always adds extra shine and makes hair look more stylish and better groomed and is easy for us to emulate at home. Another perfect example was the gorgeous Rosie Huntington-Whitely for Balmain PFW, featuring a beautifully sleek ponytail with centre parting.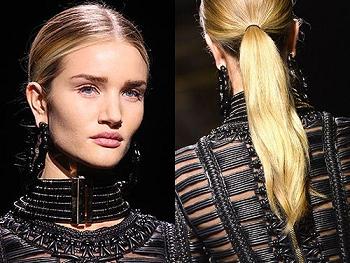 BEAUTY TREND - GLOWING, RADIANT SKIN

The catwalks have spoken, and glowing, radiant skin is one of the hottest make up trends for Spring/Summer 2014. With neon orange lips to purple eyeshadows, one thing that has remained classic is gorgeous, day-glow golden dewy skin. It is this season's answer to the golden goddess of years before. A subtle healthy glow featured heavily in the Dolce & Gabbana runways shows as models wore subtle mineral bronzing powders, brightening illuminators and light reflective primers in order to create this flawless finish!
BEAUTY TREND - DEFINED EYES

A perfectly defined eye will never go out of fashion and this year the world's makeup artistes have paved the way showcasing the various ways of achieving it! We are all aware of the stampede of follically challenged to the beauty salons in search of the well-defined, high definition brow and for good reason – eyes were cleverly enhanced. Recently at the Virgin Australian Fashion Festival the eyeliner made its revival as winged liner was featured everywhere from the simple flick to a well-crafted cat-eye, adding sultriness to any look. And of course coatings of mascara to highlight and open up the models eyes.
BEAUTY TREND - A BRIGHT, WHITE SMILE
A beautiful, brilliant smile will never go out of fashion. Whilst models wouldn't come across as the happiest of women as they pound the runways, post show and backstage it's a constant flash of perfectly pearly whites! Teamed with any makeup or fashion trend it surely is the classic accessory. And lucky for us this affordable and timeless trend is easy to emulate and as simple as brushing your teeth morning and night!
BEAUTY TREND - MANICURED NAILS

Is it just me or are nails huge this season? They may not feature centre stage at London Fashion Week but that doesn't mean they're neglected either. With a shade to suit any skin tone, trend or look, perfectly filed, seriously shaped and polished nails scream well-groomed perfection. Ensure your nails are in tip top condition and all you will have to do is choose the perfect shade to stay on top of these seasons trends.
Beautyfeatures.ie suggest:
Kerastase Elixir Ultime Beautifying Oil Cream, Moroccan Oil Frizz Control Spray, Clarins Instant Light Radiance Complexion Base, Clarins Bronzing Duo, Red Carpet Manicure Gel Polish Starter Kit, GlamGlow, Redken