It's no beauty secret that the winter months present a challenge for your skin. As the colder weather sets it, the air lacks moisture and sets about creating a very dry, harsh environment for your skin. Maintaining your flawless complexion can prove difficult as the blend of cold wintery winds and toasty central heating create the perfect recipe for thirsting, dry skin and funky frizzy hair.
Did you know that the key to ensuring healthy, glowing skin throughout winter is to drink plenty of fluids? Or that the cold weather tends to make us less thirsty and the dry cold air we breathe in is humidifed before we breathe it out – so we actually lose water just by breathing. Strange I know! But you need to make sure the hydration gets to the skin, too.
Actually if you want to check exactly how dehydrated your skin is, look at your lips! They are particularly sensitive to cold weather and if they're dry it's a sign that you need to pay more attention to not only them but the rest of your face and body as well. Here's a few tips to avoid the dry irritation that winter can bring and keep you looking flawlessy festive over the Christmas season!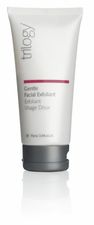 Don't Forget to Exfoliate!
It's vital to exfoliate your face and body at least twice a week and never more so than during the colder winter months. Sloughing away those pore clogging dead skin cells will work to brighten the skin, support good tone , enhance blood circulation and enable a deeper application and response to your anti-ageing skin care routine. Try Trilogy Gentle Facial Exfoliant a gentle creamy treatment that effectively removes dead skin cells and the surface debris that dull your skin's appearance. Featuring Jojoba wax spheres and Camellia oil that blend to buff away impurities as botanical oils nourish and leave your skin smooth, soft and radiant. And for your lips Trilogy Rosehip Oil Lip Balm.

Don't Forget to Moisturise!
Skincare specialists will recommend layering your skin care in winter. Choose a high performing serum to penetrate deep beneath the layers of your skin, follow with an effective moisturiser to act as an anti-ageing blanket that will defend against the environment and always use a night cream to enable your skin to repair and renew as you sleep. Don't forget to keep your body moisturised and the optimal time to apply your body moisturiser is within three minutes of having dried off after your shower. This locks the moisture in, creating skin that is beautifully soft, smooth and supple. We recommend Trilogy Ultra Hydrating Cream and Trilogy Aromatic Body Treatment Oil to deliver moisture and hydration to where its needed most as it features the high performing beauty ingredient Rosehip Oil. Check out our blog Can you tell the difference between dry skin and dehydrated skin?
Hydrate from the Inside Out!
Maintaining your hydration levels is key to beautiful skin. Winter sees us moving from cold environments directly into artifically heated ones which not only dehydrate the skin but can pull the moisture from your body as well. Make sure to drink plenty of water to ensure your preserve your natural levels and avoid dehydration. Support your diet by eating foods that are enriched with omegas and fatty acids such as fish, nuts, flaxseed, fruits, and the essential leafy greens such as the power house of vitamin E – broccoli. Why not boost your body's defence levels and hydration by supplementing your diet with Omega 3 – Pharma Nord. Featuring a a combination of fish oils with a maximum content of the omega-3 essential fatty acids, DHA (docosahexaenoic acid) and EPA (eicosapentaenoic acid). Omega-3 contains the highest concentrations (70%) of the most readily absorbed free fatty acids in easy-to-swallow capsules.
Stay tuned for next week when we look at weatherproofing your hair!