The stain of a rosy cheek is quite on trend this season, but for many women a rosy cheek often signals the crimson like skin condition called rosacea (pronounced roh-ZAY-sha). Beginning its journey as a warm flush, Rosacea is a common, red, acne like, benign skin condition that affects millions of people worldwide. A chronic and often self esteem zapping concern, rosacea can vary in severity with flare ups and remission periods adding to its unpredictability. With the HSE stating that 1 in 10 Europeans currently live with rosacea, this widely misunderstood skin condition can cause significant psychological and social problems if left untreated. Thankfully the team at Beautyfeatures.ie have scoured the beauty and skin care world for a selection of rosacea treatments and solutions chosen just for you, we know you and your skin are going to love!
Try: Dermalogica Skin Perfect Primer SPF30
Dermalogica Ireland delivers a sensitive skin collection like no other. This primer whilst suitable for all skin types is particularly gentle for those who suffer with rosacea. Use beneath your moisturiser or on its own for radiant skin without the redness. Featuring velvety silicones that create an instantly smooth and balanced surface and a neutral tint that balances tone. Not only will Dermalogica Skin Perfect Primer SPF30 smooth away and fill fine lines and brighten the skin, peptides and AGE Smart actives firm and shield against free radical damage as sunscreens shield from UV rays.

Try: Dermalogica Ultra Calming Cleanser
Combat your skins sensitivity with Dermalogicas beautifully gentle cleansing/gel cream designed for those with highly sensitised skin. Contains no artificial fragrance or colours this non foaming cleanser glides gently over the skin to minimise irritation. Featuring lavender that soothes coneflower that calms and cucumber to cool irritation, this is the perfect first step in your skin care routine. May be removed with tissue or cotton pads, making it ideal for skin too sensitive even for water.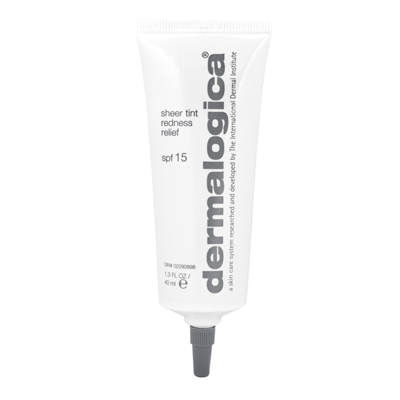 Try: Dermalogica Ultra Calming Redness Relief SPF 20
Dermalogica Sheer Tint Redness Relief SPF20 has been created to neutralise, relieve and defend against inflammation and redness induced by rosacea and skin sensitivities. A three-in-one SPF moisturiser that boasts natural earth minerals that deliver a sheer green tint to counter telltale redness as soothing extracts calm inflamed, irritated skin. Further enriched with sunscreens, vitamin E and anti irritants that offer a crucial defence against UV rays and work to control the severity of daily flare ups. Use after cleansing and allow for a small amount of the green tint to remain lightly visible on the skin. May be used alone or prior to foundation.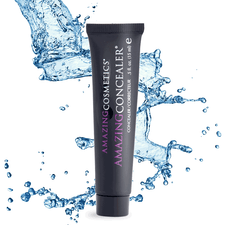 Try: Amazing Cosmetics – Amazing Concealer
Available in 10 different shades, Amazing Cosmetics have created the ultimate concealer for those dealing with the effects of redness, flushing and irritated skin. Voted Sephora's No.1 Best Selling Concealer worldwide, this brilliant cover up provides a flawless, water resistant coverage that reduces the appearance of skin imperfections instantly. From dark circles, blemishes, broken capillaries to rosacea and even sun damage, this emollient texture ensures an effortless blend that won't settle and clog pores and fine lines. For a pixel perfect complexion that eliminates red and angry flushed skin, discover the world's best concealer at Beautyfeatures.ie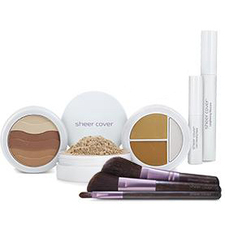 Try: Sheer Cover Studio Deluxe Kit
Reveal beautifully balanced skin with Sheer Cover, quite simply self esteem in a compact! The brilliantly effective Sheer Cover Studio Deluxe Kit features a glowing mineral blush, correcting concealers, eye shadow palettes and foundations specifically created to compliment your individual tone, texture and skin concern. The iconic Sheer Cover Studio have truly delivered a skin care and beauty solution for millions of women worldwide with an innovative formula that creates a flawless, even, natural professional finish via a mineral makeup collection that addresses and eliminates the appearance of skin issues such as rosacea. Featuring light reflective minerals that blend naturally with the oil of your skin, it is free from chemicals, preservatives, fragrance, oil and talc and both allergy and derma tested, ideal for sensitive skin and the result – photo ready, complexion perfection, every time. Check out our blog Saving Face, Skin Care for Rosacea & Adult Acne for further reading.
Do you suffer from Rosacea? Have you tried any of these products? What works for you?