I
I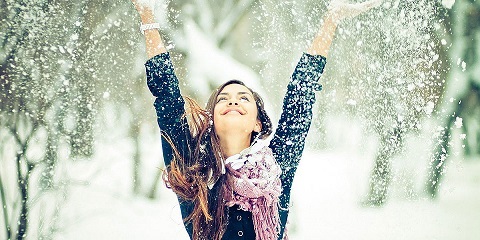 There's no doubt winter is on her way. The leaves are falling, the temperatures dropping and the nights are getting longer. And with her windy gusts comes a change in skin tone and texture. As the climate changes, skin becomes unbalanced particularly in younger and older skin, spots tend to make more of an appearance and sensitive and problematic skin may suffer. However, by making a few changes you can keep your complexion clear and radiant throughout every season. Check out our top ten essential tips!
1. Moisturise and moisturise.
Moisturising during the colder months is key to tackling dehydrated and dry skin. Make sure to layer your products, so that you can trap the moisture within the skin using richer, heavier creams like the Dermalogica Intensive Moisture Balance or oil based products rather than light weight lotions to keep the skin optimally hydrated.
2. Ease off on the exfoliation.
The key to exfoliation in the winter months is to exfoliate with lighter, finer grains less often, to keep the skin from drying out further. Dermalogica Daily Microfoliant is ideal as it gently removes dead skin cells leaving your skin replenishes, renewed and prepared for maximum absorption of the moisturiser and its hydrating properties.
3. Use serums and balms.
Replenishing the skin and preventing the loss of moisture is key to keeping your skin in gorgeous condition. The use of serums and soothing balms such as Dermalogica UltraCalming Serum Concentrate can be worn beneath makeup, gently soothing and calming the skin, improving the tone and is ideal for those with skin that tends to become more sensitive and reactive in the winter months.
4. Avoid clay masks.
Masks with a clay base, unfortunately, draw moisture out of the skin, whereas masks like the Dermalogica Skin Hydrating Masque will aid skin repair and increase its 'absorption of moisture and hydration.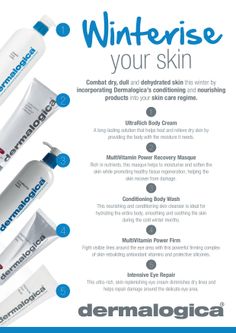 5. Stay away from super-hot baths.
Did you know that long super-hot baths increase the water loss from the skins surface? Add a bit more cold for complexion perfection.
6. Never leave home with an SPF.
Even though there is no sun, the risk to your skin from the sun's rays remain, UVA/UVB rays are present all year round, and as such to prevent not only dehydration, premature ageing and skin cancers, a sunscreen should be applied throughout the entire year. Providing a protective barrier, an SPF will also act as a barrier against the extreme weather.
7. Drink plenty of water
As the festive season hits, and the social calendar starts filling up ensure you keep yourself well hydrated not only for your overall wellbeing but dehydration from a lack of fluid will show on your skin. Many experts swear by filtered water.
8. Wear gloves.
The skin on your hands is thinner than most other parts of your body and also has fewer oil glands to keep it moisturised. Wearing gloves, as well as a moisturising hand cream such as Clarins Hand & Nail Treatment Cream will keep them looking more youthful.
9. Don't forget your lips.
Not many are aware of the fact that we lose more moisture through our lips than any other surface of the body! The changing temperatures as we go from warm rooms with central heating to cold wintery days can lead to dry, cracked lips in no time. Using a lip balm like the Clarins Lip & Contouring Balm that effectively traps moisture in while creating a seal over the skin, and as a plus it help prevent lip lines forming above the lips and keeps your lips amazingly smooth.
10. Up the anti-inflammatory foods.
As the air is cold, hydrate your skin from the inside out as you increase your intake of the omega three family of healthy fats such as salmon, sardines, anchovies, avocados, chai seeds, raw nuts and include a high quality fish oil supplement like Eskimo 3 with Vitamin E Liquid . Try to avoid coffee as it is a diuretic and will accelerate dehydration, skip the starchy food which can cause an inflammatory response in the body and can play host to skin conditions from wrinkles, to acne to eczema, rosacea and psoriasis.