Who can believe it's almost that time of year again... We can now begin the countdown to Christmas 2021! We're coming closer and closer to the best day of the year, Christmas Day, as the weeks, days, minutes, and seconds tick by! Here at BeautyFeatures.ie, we know that there isn't a one-size-fits-all gift, so we've compiled the ultimate guide to all your beauty must-haves this holiday season! Looking for the perfect present for your gal pals, sister, or the main lady in your life? From gorgeous skincare items to iconic haircare gift sets to help your loved one thrive with beautiful hair well into the new year, as well gifts for the beauty lover trying to stay on top of the trends... I'm rounding up the best holiday gifts for her. And maybe even yourself!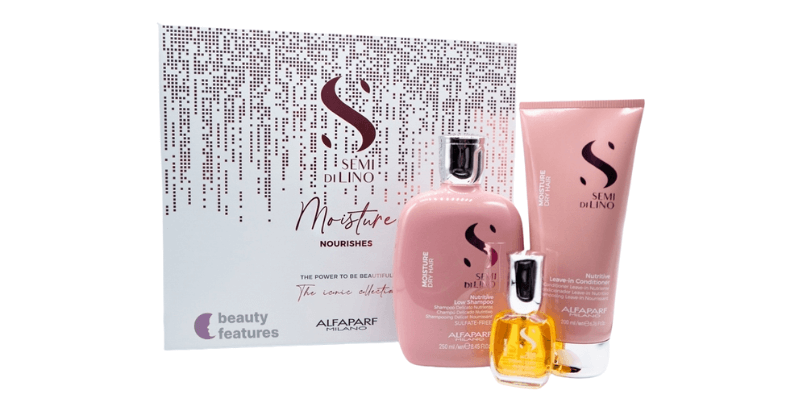 Alfaparf Semi Di Lino Moisture - Christmas Set 2021
Share the joy of beauty this Christmas with this luxurious gift set from professional Italian haircare company Alfaparf Milano. The Moisture range is essential for everyone with dry and brittle hair in need of a boost of hydration. This iconic gift set includes the Moisture Nutritive Shampoo, a quick and easy shampoo that can be applied to damp hair, lathered, and rinsed to add exceptional moisture. Along with the Moisture Nutritive Leave-In Conditioner, which hydrates and strengthens lifeless, dull hair. This leave-in conditioner nourishes and moisturizes dry hair while giving bounce to curly hair. Also included in this Christmas gift set is Alfaparf's legendary cult hero, the Semi di Lino Cristalli Liquidi, which offers a glossy, protected finish after washing. This gift set contains everything your special someone could want or need to give their haircare regimen a salon-quality finish.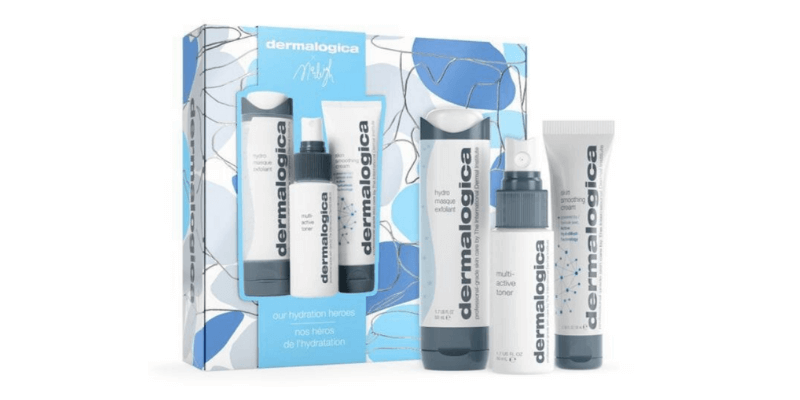 Dermalogica Our Hydration Heroes Gift Set
Even on the coldest winter days, Dermalogica's Hydration Heroes Gift Set has you covered. The colder weather reduces the amount of moisture in the air, making the winter months tough for everyone's skin. This Christmas, treat yourself or a loved one to the best collection of items to combat dry winter skin. This gift set includes Dermalogica Hydro Masque Exfoliant 50ml, a five-minute masque that hydrates and exfoliates the skin while smoothing and renewing it for glowing and healthy-looking results. Combine this with the Dermalogica Multi-active Toner 250ml, a hydrating and refreshing face toner spray. Assists in the conditioning and preparation of your skin for appropriate moisture absorption and the Dermalogica Skin Smoothing Cream, an advanced, next-generation, best-selling moisturiser made with an expertly crafted formula that keeps your skin nourished and moisturized throughout the day, whilst also soothing, hydrating, and refining dry, dull, weary skin. With this luxurious skincare treat, you can make your loved ones' Christmas even more special.
Moroccanoil Magic Of Moisture Repair Original
'Tis the season to rehydrate those dry brittle ends with Moroccanoil's Magic of Moisture Repair Original Gift set! Moroccanoil has become a household name in the beauty industry due to its commitment to producing high-quality hair and body products. The gift sets foundation is Argan oil, a truly unique precious oil from the argan tree's deep, hardy roots. Argan oil, which is high in essential fatty acids such as omega 3 and 6, as well as vitamin E and antioxidants, has been revered by Mediterranean women for centuries for its nourishing and hydrating properties. Believe in the magic of Christmas by surprising someone you care about with this elegant gift set: Moisture Repair Shampoo 250ml and Moisture Repair Conditioner 250ml, which are daily care products that help to repair weakened or damaged hair. Your hair will look revitalized and gleaming when combined with the original Moroccanoil Treatment 25ml.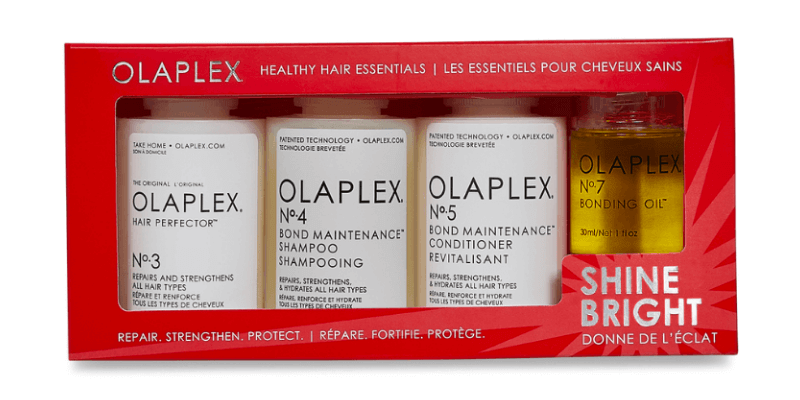 Olaplex 2021 Retail Holiday Kit - Christmas Gift Set
This gift idea is brilliant for the hair-obsessed family member who understands that maintaining beautiful, shiny locks is an expensive daily ritual. OLAPLEX has created a revolutionary line of products for salon professionals as well as for us at home. The gift set's main goal is to repair damaged hair. Many women have paid a high price for desired platinum blondes, perms, red hair, and other looks over the years, but OLAPLEX has a solution. Within this gift set includes No.3 hair perfector 100ml: Repairs severely damaged hair – in just one application, transform dry, brittle hair into soft, shiny, and more resilient hair. No.4 bond maintenance shampoo 100ml: Repairs and protects hair from everyday stresses, such as split ends and frizz. No.5 bond maintenance conditioner 100ml: Restores, repairs, and hydrates without adding weight. Removes damaged frizz for strong, healthy, and gleaming hair. No.7 bonding oil 30ml: A weightless, highly concentrated reparative styling oil. Increase shine, softness, and color vibrancy dramatically. Reduces fly-away and frizz. Protects against heat up to 450 degrees.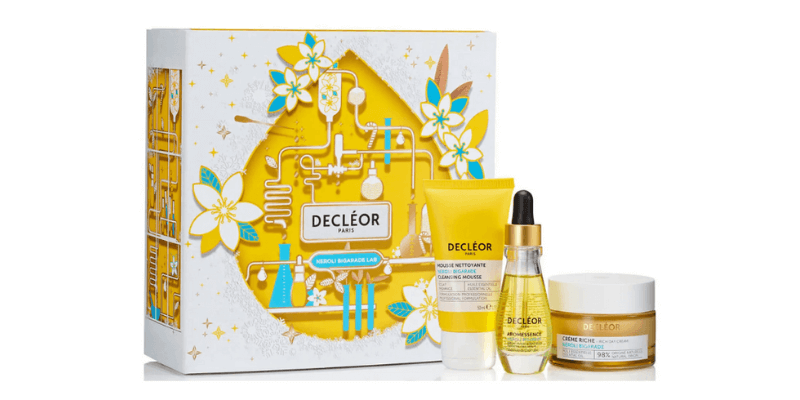 Decleor Neroli Bigarade Lab Gift Set - Limited Edition
For all the 'beauty gurus' and 'skincare junkies' in your life the DECLÉOR Neroli Bigarade Christmas Collection is the gift that keeps on giving this Christmas, as it contains the ultimate range of products for dehydrated skin. The formula contains Neroli Essential Oil and Green Tea Essential Water, making it the perfect addition to your skincare routine. Included in the gift set is the Neroli Bigarade Cleansing Mousse which removes makeup in a bright and refreshing way, thanks to a zesty formula infused with Neroli and Green Tea Essential Water. This 3-in-1 treatment works to remove impurities, brighten, plump and hydrate the skin. On the other hand, Neroli Bigarade Aromessence 15ml is a 100% natural origin face oil serum that hydrates and brightens the skin while soothing the senses. The result of using only the highest- grade Essential Oils and cold pressed Botanical Oils is a fine, silky texture that is non sticky, non-shiny, and easy to apply. Finish off the regime with, Neroli Bigarade Crème Riche 50ml, a light, fast-absorbing formula that works to restore smooth, plump skin. This combination of products will ensure that your Christmas gift is one to remember.
Recent Posts
Purple Shampoo 101 - FAQBeautyFeatures.ie have compiled a list of your most asked Purple Shampoo re …

Who can believe it's almost that time of year again... We can now begin the countdown to Chris …

If there's one product that every blonde should have, it's purple shampoo! Blonde hair endures a …