Being a dab hand with a foundation brush and a Monet with the concealer are not skills I can attest too. Sure I can paint this fine lined canvas with a childlike artistry and have mastered the black eyeliner since my youth (plenty of practice!!!) however achieving a professional finish to my make-up, highlighting my features, masking my imperfections and creating the illusion of the flawless complexion is a trick of the trade I am yet to master! And master it I will, with Sheer Cover! Famed for their late night infomercials to celebrity brand ambassadors such as the Big Brothers Emma Forbes to American TV presenter and actress Brooke Burke-Charvet who recently spoke of Sheer Cover " The secret is like having a magic wand to instantly make all my flaws disappear. Now I'm sharing that secret with you". Sheer Cover Mineral range of makeup is adored by A-Listers, cosmetic surgeons and make up professionals worldwide.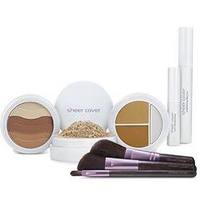 The clever team at Sheer Cover studios have crafted the brilliant Sheer Cover Studio Deluxe Kit, aswell as a range of glowing mineral blush, correcting concealers, beautiful eyeshadow palettes and foundations specifically created for individual tone, texture and skin condition (if applicable) to inspire all women to look and feel the best that they can. A skin care and beauty solution for millions of women, this innovative brand ensures a flawless, even, natural, professional finish, through a mineral makeup range that addresses and diminishes the appearance of skin issues such as rosacea, adult acne, hyperpigmentation and overly sensitive skin, to facial scarring, the covering of tattoos and the appearance of fine lines and wrinkles. Self-esteem in a compact, Sheer Cover Mineral Makeup offers an innovative, ground breaking formula of light reflective minerals that naturally blend with the natural oil of your skin. Free of chemicals, preservatives, fragrance, oil and talc and both allergy and derma tested this mineral makeup collection is both long lasting and sweat proof, idea for sensitive skin, the result - an incredibly professional, photo ready, faultless finish every time.
Sheer Cover Studios very own makeup artist and photographer ;Christian Scott, takes us through the process of applying Sheer Covers Mineral Makeup range to create a more beautiful, polished and confident you. Showcasing just how straightforward it is for us all to create the perfect look with confidence and ease. We love it, we hope you do too!
Sheer Cover Studios have truly delivered makeup-up with meaning, beautifully infusing science and skincare and in doing so boosting the self-esteem and self-image of millions of women worldwide!If you haven't already discovered this personal makeup professional at the flush of a brush. From gorgeous on-trend eyeshadow palettes to shimmering bronzing minerals, from beautiful blush to radiant mineral foundation, that highlights, refines, contours and camouflages (if the need be) look no further than the incredibly versatile and brilliant Sheer Cover range from Sheer Cover studios. Click here to see the full range Sheer Cover