Experience a Magical Night's Sleep with Dreamgenii Pregnancy Pillow
Beautyfeatures.ie are delighted to introduce the revolutionary and oh so comfortable Dreamgenii Pregnancy Pillow. Providing pregnant women with an innovative support and comfort; creating the ultimate magical night's sleep for both mother and baby! It's a proven fact that over 96% of all women experience problems when sleeping, with positional discomfort prevalent, the clever team at Dreamgenii have created a slumber filled solution for all those sleep deprived mums to be!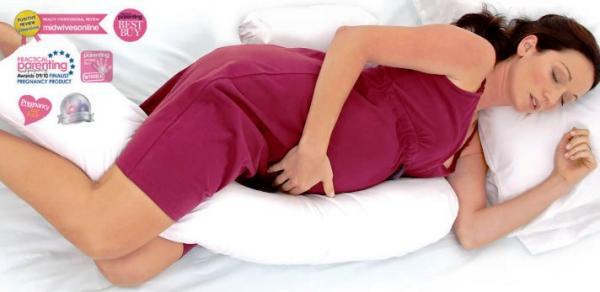 The Dreamgenii Pregnancy Pillow whilst delivering unparalleled comfort also ensures that by its gentle positional persuasion that it helps you to create the most effective and optimal position to encourage maximum blood flow between the mother and the baby and from the 20 week mark it plays a pivotal role in encouraging healthy and optimal foetal positioning. Research has shown that this positioning may support a quicker, less painful labour (who doesn't want that?) thereby limiting the chances of intervention for those mums to be who prefer and wish for a more natural flow to their labour. So just how does a pillow achieve all of this? How can one pillow support your back, your baby bump and knees without taking over the whole bed? Well read on and we'll explain.
1. The Dreamgenii Pregnancy Pillow gently encourages you to sleep on your left hand side, which is the optimal position for both mother and baby.
2. Dreamgenii encourages maximum blood flow between mother and baby as it gently discourages you from sleeping on your back during the night, this position can limit oxygen and blood flow to your baby.
3. The Dreamgenii Pregnancy Pillow is recognised and supported by midwives across the UK, and is recognised as the only specifically designed pregnancy pillow and maternity pillow to adequately support back, bump and knees throughout your pregnancy.
4. The Dreamgenii Pregnancy Pillow is also designed to support your back during breast feeding and helps to keep the baby at the correct height and positioning, allowing both mother and baby to bond without the interruption of discomfort.
5. This innovative and award winning pregnancy and maternity support is ideal for women who have had a caesarean as it supports your stomach and the baby's weight and encourages you to sit in an upright and comfortable position whilst breastfeeding.
6. 9/10 women would recommend the Dreamgenii Pregnancy Pillow to a friend, this is the ultimate recommendation alongside that of the UK midwives & Obstetricians association.
7. Featuring a leg support that will gently elevate your legs while you sleep so that the pressure is taken off your back and growing tummy.
8. The Dreamgenii Pregnancy Pillow is filled with a hypoallergenic polyester and its pillow case a cotton and polyester blend. All easily washable at 40°C.
9. Whilst offering a fully body support its ergonomic and innovative design ensures that it takes little room in the bed, creating the best sleep environment for all in the bed.
If you're currently on or about to undertake the amazing journey through pregnancy, or even if baby has arrived, the Dreamgenii Pregnancy Pillow provides a beautiful support for sleep and for breastfeeding, delivering true comfort at this most magical of times! For more brilliant tips, tricks and products to ease you through your pregnancy and beyond read our blog "Be Skin Fit For Life With Mama Mio".