So on one hand you've got Drew Barrymore, Sarah Jessica Parker and Angelina Jolie and on the other Blake Lively, Eva Mendes and the gorgeous Rosie Huntington-Whiteley absolutely loving AmazingCosmetics AmazingConcealer . A true cult favourite, with Rosie going so far as to call it her "go-to-concealer" for her "2-minute face", this creamy, magic eraser perfectly hides all manner of imperfections with fashion and beauty bible Vogue, rating it as one of the world's top 10 best concealers. With such huge praise, and with every girl in need of a good concealer we just had to investigate this water resistant, non-creasing and highly pigmented concealer that they don't call amazing for nothing!
AmazingCosmetics, AmazingConcealer named "Best Concealer" in Cosmopolitan 2015 Beauty Awards. Amazing by name, truly Amazing by nature!
I bet you didn't know that Ireland's very own Pippa O'Connor calls AmazingConcealer the "Best Concealer Ever" and let's be honest Pippa always looks incredible! On Pippa.ie she said; "This, though, isn't like any other concealer, its magic! A tiny dab of this product goes a long way. It literally conceals anything and everything… dark circles, blemishes, broken capillaries, sun damage. It provides heavy full coverage but feels weightless on the skin. It lasts all day too with no need to top up. This is without a doubt amazing concealer".

So tell us about AmazingConcealer I hear your cry, as you're looking at the dark bags under the eyes, or the smattering of pigmentation from those yearly holidays in Lanzarote, why do we need it? Well, if Drew, Sarah, Angelina even Gisele can't convince you let alone our own Pippa here's a little info for you!
#1. Meet the world's best concealer! The beauty insider's secret to a truly flawless complexion, AmazingConcealer is a firm favourite on TV and film sets including Gossip Girl, True Blood, Mad Men, Sex & The City, Glee and Modern Family and many more, it's the makeup professionals concealer of choice and if it's good enough for Carrie Bradshaw then it's good enough for me!
#2. Available in 10 shades of perfect, the AmazingConcealer is a highly concentrated and pigmented formula that delivers complete coverage, eliminating every skin imperfection with ease and creating a fabulously flawless finish.
#3. A multi-tasking concealer it rapidly erases skin imperfections from dark circles, broken capillaries and blemishes to hyperpigmentation, uneven skin tone, rosacea and the effects of sun damage, with a single dot, blend and repeat!
#4. The incredible performance of AmazingConcealer is a result of three unique formula highlights:
#5. Water Resistant: It is a long wearing formula that stands up to the elements with no fading, simply put it will not come off until you take it off.
#6. Natural Finish: Offers a weightless and emollient texture. Skin feels and looks like you're wearing nothing at all. With an absolutely natural finish, there is no creasing and no settling, leaving you with complexion perfection.
#7. Highly-Pigmented: AmazingConcealer is 3.5 times more pigmented than other traditional concealers. Suitable for all skin types, it creates complete coverage with an incredibly small amount of product.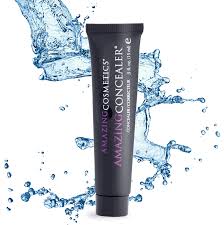 With just the tiniest bead of AmazingConcealer needed to transform normal skin into amazing skin, unleash you're inner amazing-ness as you banish skin imperfections as AmazingCosmetics AmazingConcealer blends seamlessly into pores and fine lines, delivering skin to be amazed by!
Click AmazingConcealer for the most amazing results now!