i
i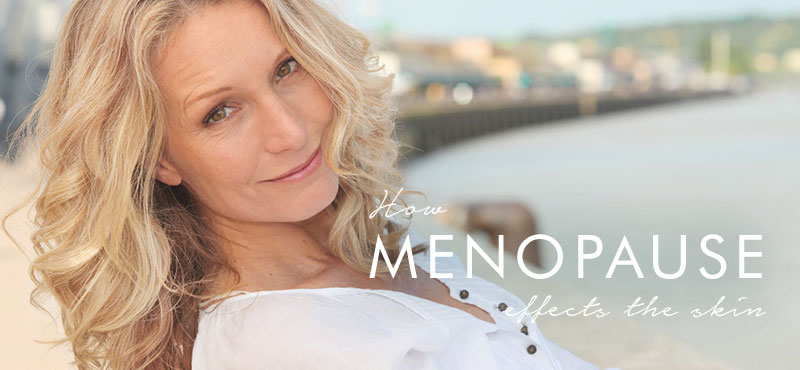 Menopause – another thoughtful gift from nature to all women, that presents quite a few physical challenges and as hormones run amok leaving a wake of chaos and havoc in its wake, we take a look a look at the visible transformation that can occur as menopause meets your skin! Did you know 'amazing women don't have hot flushes, they have power surges? Make this your mantra as you find yourself swathed in sweat and fighting insomnia. Oh, the joys! But when it comes to your skin, you can fight back. Dry dehydrated skin fluctuates with recurrences of adult acne, a skin complaint you had hoped had become extinct after puberty as the texture, tone and pigmentation may also change during this time. So with your best interests at heart we asked the skin experts at Alpha-H to explain what happens to the skin and how can we treat it
What actually happens to the skin during menopause?
1. The major female hormones Oestrogen and Progesterone decline rapidly throughout this time leading to an acceleration of the skin's ageing process.
2. The body's ability to manufacture and repair collagen and elastin is compromised, and particularly so if the skin has been exposed to years of UV rays.
3. As we age our skin loses resilience, elasticity and firmness as the appearance of wrinkles, scars and expression lines deepen.
4. Due to a decline in oestrogen (the regulator of melanin) age spots and pigmentation become more visible.
5. During this time, your skin produces less melanin making it more vulnerable to sun damage, highlighting the importance of a broad spectrum sunscreen every day.
6. As the oestrogen levels decrease, testosterone becomes more dominant and stimulates sebaceous glands. With thicker sebum, the skin becomes oily and prone to adult acne.
7. A reduction in blood flow through the dermal capillaries takes place leaving the epidermal layers starved of oxygen and nutrients which can lead to thinning and ageing of the skin.
8. Your skin may experience a slower cell turnover rate, which leads to loss of moisture and hydration. As these lipids diminish, the skins sensitivity is increased leading to rashes, dermatitis and over reactive conditions.
What can I do to treat my skin during the menopause?
1. Address and target structural and visible changes while maintaining the integrity of the skin.
2. As your hormones fluctuate, the skin becomes quite unpredictable so ensure you have a flexible skin care routine that can adapt as required.
3. We recommend booster treatments such as hydrating serums and products that feature gentle, resurfacing ingredients and all important peptides.
4. Peptides are vital as they stimulate collage production and enhance the skins elasticity which is crucial as the skin becomes thinner and begins to sag.
Tips for treating the skin during menopause
1. Select treatments which replenish moisture levels and stimulate cell renewal.
2. Alternate your daily cleanser of choice with a hydration boosting cleansing oil or Glycolic based renewing wash.
3. Vary your regular serum with specifically targeted treatments.
4. Add a gently exfoliation treatment to your skin care routine to avoid dead skin cell build up.
5. Make sure to apply a broad spectrum SPF protection every day.
6. If your skin is problematic, try a non-drying treatment regime that involves natural anti-bacterial ingredients to assist in balancing the skin from the hormonally induced breakouts as it maintains the skins natural hydration levels.

Tell me about the Alpha-H products that are recommended for skin during menopause.
The Alpha-H Liquid Laser range has been purposely formulated to target and address conditions that arise in both peri and post-menopausal skin, particularly if the skin is dry, fragile and lacklustre. With a collection offering the Alpha-H Balancing Cleanser , Liquid Gold Smoothing & Perfecting Mask and the Liquid Gold Intensive Night Repair Serum .
For those with skin proving a little more problematic with outbreaks of adult acne and over enthusiastic sebaceous glands, they will benefit from a non-drying Salicylic Acid based routine, which actively targets underlying hormonal cysts. The Alpha-H Collection features simple, yet highly effective tskin treatments that can be used alone or in combination with other products designed for breakouts, spots and acne.