Adult acne unfortunately is not a myth, but a very real affliction for many women. Research has shown that low-grade, persistent acne is common among women in their twenties, thirties and forties - coming at a time when we are addressing other skincare issues such as fending off fine lines and wrinkles. But you don't have to feel as if you're 30 going on 13, imagining backpacks, braces and One Direction posters as an accessory, as unfortunately acne may be non-existent and lie dormant for years. Various factors can come into play such as stress, hormonal fluctuations and environmental elements that will eventually encourage acne to rear its ugly head (no pun intended!) quite often with frustrating emotional side effects. So let's unclog those pores and reveal a beautifully flawless complexion with a savvy skin care routine that will help smooth the way and bust open a few breakout myth misconceptions!
Can dirt cause my blackheads?
Blemishes are a result of a number of varying factors – but dirt isn't one of them! Breakouts form when dead skin cells blend with your body's natural oil, forming a dense plug in your pores, allowing an army of Propioni bacteria living in your sebaceous glands to multiply and clog away. This process is the same regardless of whether your 13 or 35, although adult acne is more prone to setting up camp along the jawline, chin and neck rather than the forehead, cheeks and nose. Remember over washing your delicate facial skin in an effort to ensure your skin is clear and clean can actually make breakouts worse and over sensitise the skin.
Try: Proactiv Renewing Cleanser (120ml): Salicylic acid and micro crystals blend to gently exfoliate and penetrate deep beneath the skin, removing impurities. A mild and oil free formulation Proactiv Renewing Cleanser is the first vital step in achieving cleansed, refined and pure skin. ( As part of the Proactiv Anti Blemish 4 Piece Kit ).
Can certain foods cause my breakouts?
Don't feel guilty munching away on your Dairy milk, whilst it may not be great for the weighing scales, it doesn't necessarily mean that the kebab and chocolate combo you had yesterday will be the cause for your breakouts today! We know that diets deficient in vitamins and nutrients can affect the entire body and it's safe to say an unbalanced diet may contribute to your spots but scientists have yet to prove a direct link between diet and acne, so don't be afraid to indulge once in a while. Everything in moderation, with one eye firmly kept on being healthy! Check out Saving Face - Skincare for Rosacea & Adult Acne for further reading.
Try: Proactiv Revitalising Toner (120ml): A balancing toner effectively removes dead skin cells that encourage bacteria growth, to reveal radiantly revitalised and even skin beneath. Infused with fresh botanical extracts that sooth and refresh, your skin is left clear, revitalised and smooth. (As part of the Proactiv Anti Blemish 4 Piece Kit).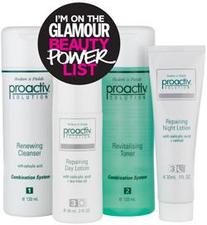 Aren't breakouts just for teenagers?
Breakouts are versatile! They will strike at any age, studies show that over 85% of all people aged 12-24 experience breakouts. Lying dormant they can emerge as late as our twenties, thirties or forties, particularly in women (lucky us!) as hormonal fluctuations leave us vulnerable. Whether brought on by stress, PMS, pregnancy, or polycystic ovary syndrome (PCOS) the result is the same – an increase in cortisol which breaks down into testosterone (a male hormone) that then delivers excess oil through the pores.
Try: Proactiv Repairing Day Lotion (60ml): Breakout buster Salicylic acid penetrates deep, drying blemishes and eliminating the potential for the development of white and black heads! Working throughout the entire day, your skin is refreshed, soothed, protected and perfectly prepared for the impressive performance of Proactiv Repairing Night Lotion. (As part of the Proactiv Anti Blemish 4 Piece Kit).
Leave your spots alone – you'll grow out of them
Those who deal with acne and the confidence denting effects of breakouts on a daily basis know only too well that ignoring your blemishes can leave both physical and emotional scarring. Regardless of your age, this is a skincare issue to deal with head on and early. Address and uncover the reasons behind your breakouts, and the ultimate way to prevent them appearing is by dealing with them before they rear their ugly heads! Stress less and treat topically, combine that with a healthy lifestyle, pampering your body both internally and externally will produce a calming effect and thereby reduce excess cortisol.
Try: Proactiv Repairing Night Lotion (30ml): Soothe and treat as you sleep! This effective night lotion combines Salicylic acid that works deep beneath the dermis to prevent future breakouts as the highly potent Retinol balances and evens out skin tone whilst reducing pore size. Enriched with Vitamin D & E, skin is protected from free radical damage inflicted by the effect of the sun and environmental aggressors. The ultimate step in the Proactiv Anti Blemish 4 Piece Kit delivering beautifully clarified, refreshed and clear skin. (As part of the Proactiv Anti Blemish 4 Piece Kit).
Breakouts are just superficial, a cosmetic concern!
Who we are and what we present to the world is written all over our face! While breakouts and acne aren't serious life threatening conditions, it does hold the power to reduce the bravest and strongest of us to tears of frustration. Acne and blemished skin can totally affect the way your feel about yourself and the world that you live in, this is not just a cosmetic concern, it is a very real self-esteem and self-confidence issue, and never let anyone discourage you from seeking help or advice, Proactiv 3 Step Clear Skin System can provide you with a visible transformation that can not only restore your skins natural beauty but your self-image also.
Try: Proactiv Daily Oil Control (50ml): enables the skin to balance itself using its own natural oil levels. Proactivs revolutionary formula aids in the elimination of excess oil, banishes impurities from clogging pores and prevents make-up from streaking. Supporting skin that is radiant and shine free.
Are breakouts Curable?
Not yet – but never lose hope. Remember a diligent skin care routine practised every day such as the Proactiv Anti Blemish 4 Piece Kit which contains active, effective ingredients will ensure that you maintain a blemish free zone. But unfortunately even though your skin is clear, to remain that way you will need continued daily use of your Proactiv Solution.
Try: Proactive Refining Mask (70gm): A luxurious treatment containing sulphur a non-synthetic antibacterial compound which penetrates pores, eliminates bacteria and Kaolin which absorbs surface oils. Addressing varying needs; use as a soothing facial mask which refines skin tone and texture or as an emergency spot treatment when attention is needed in a specific area. This outstanding multi-purpose formula delivers unclogged pores, soothed, clear and beautifully refined skin