We all love an awards season, we've waved goodbye to the pomp and ceremony of the Oscars, The Golden Globes, Emmys, BAFTAS and Cannes; but one prestigious event still remains – the Beautyfeatures.ie Anti-Ageing Awards for Spring/Summer 2014! Showcasing super charged serums to wrinkle filling eye creams these products get proven visible results.
So with no further ado, the winners are………………..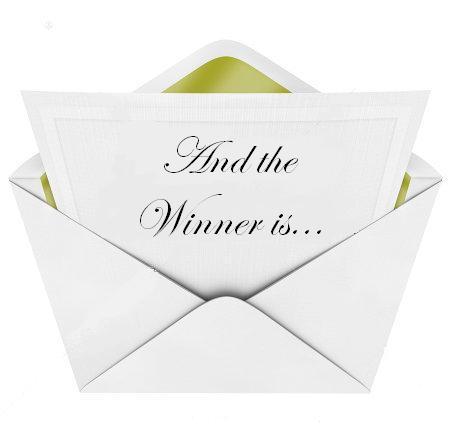 Best Anti-Ageing Cleanser
Gold Award: Dermalogica Age Smart Skin Resurfacing Cleanser
A brilliant 2-in-1 cleanser and exfoliator, that features Lactic Acid (5%) that smooth's, retexturizes and delivers ultra-clean skin. Prepares the skin beautifully for maximum absorption of the anti-ageing products to follow.
Silver Award: Decleor - Youth Cleansing Milk 200ml
Boasting hyaluronic acid to boost hydration and protect collagen. Fuelled with essential oils this cleanser effectively removes makeup and thoroughly cleanses the face and neck whilst smoothing fine lines and wrinkles.
Best Anti-Ageing Serum
Gold Award: Clarins Double Serum
The multi award winning Clarins Double serum offers the only intensive anti-ageing treatment serum rich in over 20 plant extracts designed to boost the skins vital functions. Skin is left firmer, wrinkles appear smoother and the complexion balanced as pores appear less visible. This iconic anti-ageing serum from Clarins is ideal for all skin types and textures. For visible results look no further.
Silver Award: Thalgo Silicum Concentrate 30ml
If you are yet to discover the marine inspired brilliance of the Thalgo collection available on beautyfeatures.ie then don't look past this highly concentrated beautifying serum that firms, tones and diminishes the appearance of wrinkles. Delivering an instant effect slackened skin is tightened as comfort and suppleness is restored. Totally rejuvenates and revitalises ageing skin.
Best Anti-Ageing Facial Moisturiser with SPF
Gold Award: Dermalogica Age Smart - Dynamic Skin Recovery SPF30 50ml
Dermalogica never fail to deliver with this anti-ageing masterpiece not only does it support firmness, elasticity, and hydration while helping to defend against the primary causes of skin aging, this medium-weight, emollient daily moisturizer with SPF30 will protect the skin from the damaging and ageing effects of the sun and UVA and UVB rays. Just brilliant.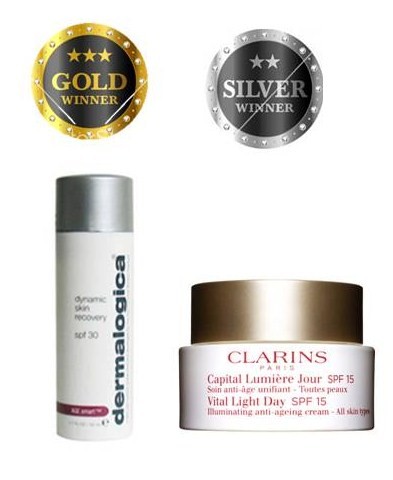 Silver Award: Clarins Vital Light Day Cream SPF 15 (All Skin Types) 50ml
Reverse the hands of time as SPF protection defends against UVA and UVB damage. Harnessing the power of three rare pioneer plants that firm, unify and restore luminosity, this awesome anti-ageing cream regenerates with spectacularly age-defying results. Ably supported by UVA/UVB sunscreens, Vital Light encourages the collagen network leaving skin beautifully regenerated whilst promoting a youthful looking glow
Best Anti-Ageing Night Cream
Gold Award: OSKIA Bedtime Beauty Boost 50ml
Featuring peptides, Hyaluronic Acid, Omegas 3, 6 and 9 amongst many other age defying ingredients this night treatment rich in essential cell nutrients will hydrate, brighten and stimulate the skins natural regeneration process. Plumps and smooth's fine lines as it targets wrinkles and pigmentation. This is a serious cream for those who are serious about maintaining beautifully youthful skin.
Silver Award: Dermalogica Overnight Repair Serum
Argan oil, essential fatty acids, vitamins a and e, peptides and rosehip oil all fuse in this age defiant Dermalogica Overnight Repair Serum. A potent night time treatment that synchs with your bodies' night time recovery process to minimise fine lines, wrinkles and loss of elasticity and encourages cell renewal. For real results for real women!
Best Anti-Ageing Eye Treatment
Gold Award: GLAMGLOW - BrightMud Eye Treatment
What's not to love about the Glam Glow collection of mud masks aimed at cell renewal, skin rejuvenation and eliminating the effects of ageing. This revolutionary formula is designed to rejuvenate and rehydrate the eye area in as little as 3 minutes! Boasting the world's first Tap-On, Wipe- off Reverse Action under Eye and Orbital Treatment, gorgeously eliminating the effects of late nights, fatigue and ageing, say goodbye to dark circles, puffiness, fine lines and wrinkles as the circulation is stimulated and the skin left youthful and illuminated.
Silver Award: Trilogy Eye Contour Cream 20ml
Rising to the anti-ageing challenge brilliantly Trilogy Eye Contour Cream is a velvety blend of Aloe Vera and nutrient rich Rosehip, Avocado and pure plant oils. Gorgeously cooling and soothing the eye area as it cleverly minimises the appearance of fine lines, leaving the delicate eye area visibly youthful and beautifully moisturised.
Best Anti-Ageing Mask
Gold Award: GLAMGLOW Tingling Exfoliating Mud Mask (YOUTHMUD)
The legendary 10 minute in a jar facial has taken top honours, but I'm sure that's not a surprise. Featuring super antioxidants fused with essential minerals that combat the signs of ageing, minimising pores, softening fine lines and wrinkles and revealing totally rejuvenated and revitalised skin. This beautifying and anti-ageing treatment delivers gentle exfoliation enabling collagen synthesis and increased moisturisation is activated. Discover why Hollywood and beauty editors the world over champion this brilliant treatment.
Silver Award: Decleor - Prolagene Lift – Lift & Fill Wrinkle Mask 30ml
A innovative mask designed to target deep set facial wrinkles. Featuring a filler effect, a drip feed of active ingredients offer immediate hydration and plump the skin. With essential oils, and Decleors ground-breaking L-PROLINE Complex that encourages intercellular communication, the skin is preserved both deep within the epidermis and instantly on the surface. Also features the anti-ageing magic that is Hyaluronic Acid leaving your skin visibly younger and ultimately healthier.
With so many effective anti-ageing products and treatments available we encourage you to discover the array of anti-ageing treatments on offer at Beautyfeatures.ie. For further information "The Top 10 Commandments of Anti-Ageing" makes for a great read!