Want instantly flawless, crazy gorgeous skin this Christmas? Bring sexy back and give the gift of super radiant skin with GlamGlow Gift Sexy a limited edition lust have Christmas gift set designed to create a flawless, photo ready complexion. Skin care lovers will already be familiar with Hollywood's favourite skin care superhero, championed by celebrities, makeup artists and beauty editors worldwide. This masked marvel has left a trail of awards in its wake with Elle Magazines "Best Face Mask 2014" a most recent accolade, fast reaching iconic status, GlamGlow mud masks are now available and much sought after in over 52 countries worldwide.
The team at Beautyfeatures love their perky pots of magic mud and were excited to see the latest treat from the brilliant team at GlamGlow arrive into the office. The GlamGlow Gift Sexy Christmas Gift Set has fast become the lust have gift set for this Christmas, so let's take a closer look at the festive fabulous Gift Sexy.
What does Gift Sexy Contain?
GlamGlow Gift sexy contains 3 award winning GlamGlow mud treatments.
1. GlamGlow THIRSTYMUD Hydrating Treatment 50gm (full size)
2. GlamGlow YOUTHMUD Tinglexfoliate Treatment 15gm
3. GlamGlow SUPERMUD Clearing Treatment 15gm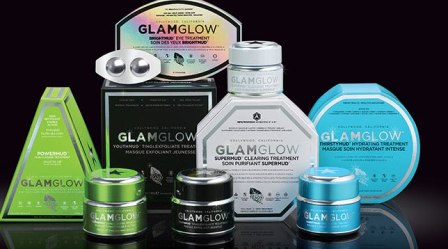 What does Gift Sexy deliver?
GLAMGLOW THIRSTYMUD alleviates dry skin, delivers deep intense hydration, boosts the skins moisture and soothes and calms the skin. Skin is replenished, restored and rejuvenated.
GLAMGLOW YOUTHMUD produces immediate skin transformation, brightening dull skin leaving your complexion visibly softer and smoother. Featuring power packed antioxidants and minerals that work to tingle, exfoliate, brighten, tighten and resurface in as little as 10 minutes. The perfect anti-aging skin care solution.
GLAMGLOW SUPERMUD effectively unclogs pores, improves the skins clarity and tone and fights common skin issues, such as spots, ingrown hairs, razor bumps, problem skin and imperfections. Delivering mind blowing results, skin appears smooth, even, and seemingly poreless.
How does GlamGlow work?
What do Michael Buble, Miley, Cyrus and Jennifer Anniston have in common? A love for GlamGlow that's what! Yep it's true the internet is awash with celebs endorsing the brilliance of GlamGlow and the blogosphere is full of converted bloggers and beauty editors – because GlamGlow not only looks polished and sexy but actually delivers real visible results. A power packed blend of antioxidants, minerals and ground breaking GlamGlow skin care technologies, the GlamGlow mud masks draw impurities from the skin, reducing the size of pores, correcting skin imperfections and delivering intense hydration to thirsting skin. Here are 6 reasons Why a GlamGlow Mud Mask should be your new BFF. GlamGlow mud masks contain the following skin beautifying ingredients:
Teaoxi – derived from eucalyptus leaves, this patent-pending technology is said to deliver a time released dose of flavonoids and eucalyptol. Flavonoids act as antioxidants to help repair aging skin. Stimulating natural collagen cells this formulation acts to create a renewed sense of firmness to the skin.
Acnecidic-6 – GlamGlow carries a 4.4% concentration of acnecidic-6 to clear pores and eliminate acne and remove blackheads. The acne-fighting benefits are designed to address adult blemishes as the acnecidic-6 also contains age-fighting nutrients.
Pore-Matrix – a charcoal-based formulation created to draw out toxins from the skin and clear pores.
Bio life Cell Science – ingredients in the bio life cell science technology rejuvenates skin and reduces signs of aging. Containing eucalyptus leaf that soothes and diminishes acne scars and skin imperfections, liquorice root that regulates skin and prevents skin discoloration, chamomile to alleviate and reduce skin inflammation, and ivy to help tighten the skin.
Volcanic pumice rock – a major ingredient of the masks, volcanic pumice rock, is designed to provide multi-level skin exfoliation.
French Sea Clay – known for absorbing toxic substances from the skin, French sea clay supplements charcoal to give the skin a tingling sensation while ridding the skin of impurities and pathogens.
So give the gift of sexy skin with GlamGlow this festive season and beyond. Click GlamGlow for the full range on offer at Beautyfeatures.ie and discover why the beauty world has chosen GlamGlow as the mud mask of choice in over 52 countries. Serious skin care for those serious about beautiful, youthful and flawless skin.