Heading into the final month of summer, brings a flurry of events from music festivals to weddings and the rite of passage for many young Irish women that is the "Debs", all requiring makeup and hair styling perfection. But what if your time poor? What if the transition from festival you to Debs you is not a smooth one, well put the elaborate hairstyles to the side, we've got a hair style tutorial that will leave you looking polished and perfectly styled without too much effort, as you put the tent away for another year and dress up your tresses with this beautifully feminine, loose last minute chignon. Check this out!
Step 1: Chances are if you've been sleeping on your Goldie locks your likely to have some tangles. So before styling make sure to brush out your hair – starting from the bottom and working your way to the top with a brush like the Moroccan Oil Paddle Brush. Argan oil infused this brush will calm the naughtiest of knots and reduce little pesky snags and static. This will ensure your hair is ready to put up once smooth and tangle free.
Step 2: Depending on how oily your hair is, you may need to apply a dry shampoo at the roots to absorb excess oil and train your tresses. Once you've run your fingers through your roots to blend the dry shampoo in, you're ready to style. The drier your hair the more texture it gives and the more hold it keeps.
Step 3: Grab a section of your hair at the crown, then using your brush gently tease the underside of your hair in order to create more volume and height. If your hair tends to be heavy and weighted down use a bobby pin to hold in place.
Step 4: Grab an elastic and pull your hair gently into a low ponytail. Continue to create a gap right above the elastic and fold your ponytail through the hole. This is similar to a topsy tail for all of you who remember the 80's!
Step 5: Continue to roll your hair through the split in your ponytail, fold your hair through until the ends are hidden and a cute chignon has formed. For those who have exceptionally long locks spread the remaining ends of your ponytail and tuck them in the sides of the chignon rather than the centre. Add drama by pinning any loose strands with a few bobby pins.
Step 6: This is the most vital stage of ensuring a successful last minute chignon. Ensure it stays in place by setting with a strong hold hairspray that offers flexibility and movement, like Moroccan oil Luminous Hairspray. This hairspray will stop pesky little hairs peeking out of the chignon and protect and maintain your style for a long lasting wear through the night and into the early hours if needed.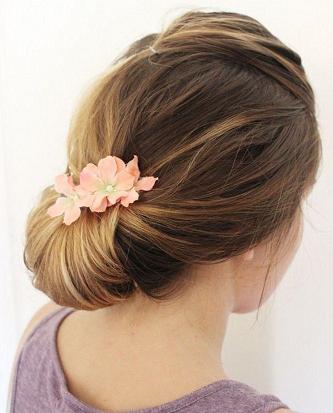 Ensuring your hair is in the best condition it can be leading up to either you're Debs or the friend's wedding or the outdoor festival, why not discover the TIGI collection now available through Beautyfeatures.ie. An award winning and fashion forward hair care collection by TIGI. Featuring the fearless Bed Head and fashion savvy Catwalk selection of shampoo and conditioners created to deliver progressive, fresh and dynamic hair care that screams expression and invention. So whether you're subjected to the weather or looking for hair care perfection for that special occasion, rejuvenate your hair with the TIGI collection. Check out Be Transformed and Be On Trend with TIGI for further information.