Oh the glamour of Cannes, from the picturesque seaside resort to the flocks of gorgeous A-listers who grace the red carpets in envy inducing dresses, shoes and style. The iconic french film festival differs from other red carpet events. As the worlds' acting and fashion elite embrace the glamour with hair and makeup appearing edgier, more achievable, and serving up a helping of beauty inspiration that even the most cosmetically challenged can incorporate into their own style. With the Met Gala a distant memory and the Oscars so last year, let's focus on a selection of some absolutely on trend beauty statements that you can try at home.
You're never too old for braids – you're never too old full stop!
From the old Hollywood glamour to the perfectly understated makeup; Aussie actress Naomi Watts shows how to be you're most beautiful as you embrace your age. A natural beauty, she absolutely exudes class, with her side swept 'do'. However it's her Aussie colleague the elegant Ms Cate Blanchett that grabbed our attention. Ms Blanchettt never puts a Manolo Blahnik wrong, and here sporting a sneaky little braid she wows again. Many may think braids are only acceptable for the 25 and under group, but we've got the very beautiful Cate Blanchett to prove them wrong. From the front her hair is both sophisticated and sleek, then from the side we see a playful side braid that offers a touch of whimsy to an otherwise chic bun. You can try this at home, be creative and surprise with how you incorporate a braid into your look. Check out How to create a chic up-do with just 6 products for further tips!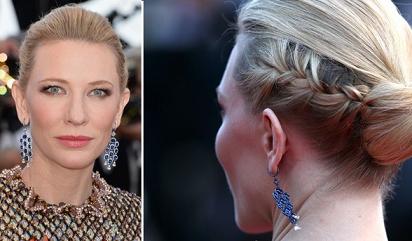 Try: Redken Diamond Oil Shatterproof Shine for sheer gloss. Kerastase Densimorphose Densifying Mousse to create volume and height. Kerastase Styling Spray a Porter Beach Effect Spray for texture and Moroccan Oil Luminous Hairspray to set.
A bold red lip makes for the perfect statement.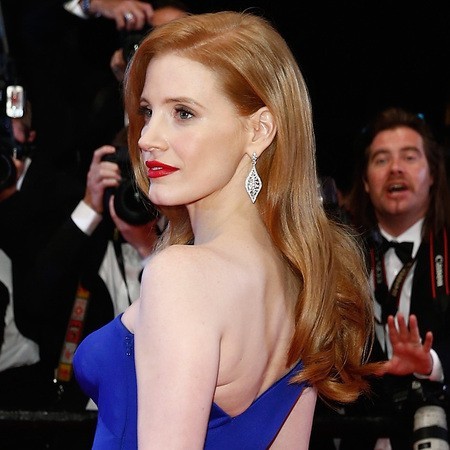 Are you a slave to the little black dress, is your wardrobe a showcase of every shade of black? Do you consider all eye shadows bar the neutral family to be absolutely over the top? Sound like you, well congratulations are in order as you've given yourself the perfect opportunity to make your beauty statement with a lip colour – and make it a red!
Take a look at American beauty icon Blake Lively. Increasingly her innate sense of style has her gracing covers the world over. Her form fitting black dress, classic power bun , flawless skin and classic eye make-up work to make her matte red lipstick really stand out. The overall look is pure perfection. Many followed in her wake with Jessica Chastain and Nicole Kidman also sporting statement red lips!
Try: Clarins Joli Rouge Lipstick for an intensely rich red that leaves the lips incredibly smooth and vibrant. Remember when wearing a bold lip colour, always line your lips to ensure the colour doesn't feather. Why not try filling in your lips with a lip liner before applying your lipstick for longer-lasting results. For a Ms Kidman like flawless complexion we recommend Clarins Instant Smooth Perfecting Touch a make-up base/primer that magically smooth's away lines, pores and imperfections instantly! Formulated with innovative line-filling technology to reveal a complexion that's practically perfect.
You can pull off a sexy, dishevelled look – it's easy!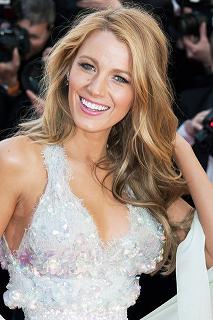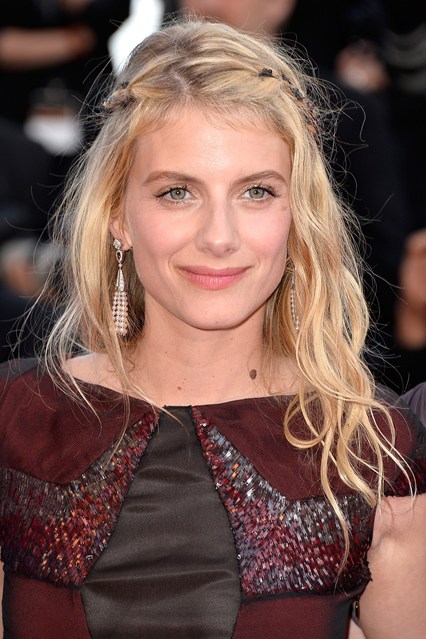 The gorgeously unkempt 'I-just-go-out-of-bed' hair 'do' always seems like a great idea at the time, but often when we give it a whirl it ends up looking like, well you just got out of bed – and you weren't happy!
The basis for this sexy, almost ethereal look is actually understanding how to style your makeup to complement your hair. The two go hand in hand to ensure that you're not giving off a 'couldn't really be bothered' vibe but a seriously stylish attempt at fun, flirty beach inspired hair.
So take a note from the girl who never gets it wrong Blake Lively, who complements her gorgeous golden locks with a pretty make up look comprised of luminous skin and a pink lip. However it's French actress Melanie Laurent who steals this crown! Wearing ethereal texturised waves with a loose braid detail complimented by pale shimmering eye shadow and again we see the pink lip. Once you start getting heavy with your eyeliner and mascara and wear dark vibrant colours on your lip, you're going to end up looking more 'morning-after-a-big-night' than naturally beautiful and radiant. For further reading on how to achieve beautiful hair read Timeless hair care tips!.
Try: Moroccan Oil Heat Styling Protection Spray to protect from the rigours of heat styling tools. Kerastase Styling Spray a Porter Beach Effect Spray for texturised strands that give a beachy dishevelled look. Finish with Clarins Instant Light Radiance Complexion Base for a naturally luminous complexion. Cleverly correcting skin tone as it offers hydration and soothing skin care benefits.