Your Guide to the NEW Alfaparf Christmas Gift Sets for 2022!
Hands up if you're ready for mince pies, carols and NEW HAIR PRODUCTS FROM YOUR FAVE BRANDS! Amongst our favourite elements of the festive season, the arrival of newness in the form of our most treasured hair goodies has to be a highlight! And this year, Alfaparf have outdone themselves again with their colourful new range of Semi Di Lino Gift Sets, inspired by popular Italian fashion designers! They'll make a fabulous gift for a loved one even for the uh-mazing box alone, but, of course, each one contains the ultimate treats for your tresses. And why not treat yourself as well? Tis the season, after all…Let's take a look at the range!
The expert team at Alfaparf understand that not all hair is made the same, which is why there are SIX fabulous, tailor-made Semi Di Lino ranges to suit all hair types! What's more, all of the shampoos included in these sets are sulfate free Low Shampoos with less chemicals, so anyone with colour-treated hair can rest knowing their 'do is in safe hands! And did we mention the vegan formulas?
Semi Di Lino Diamond Holiday Set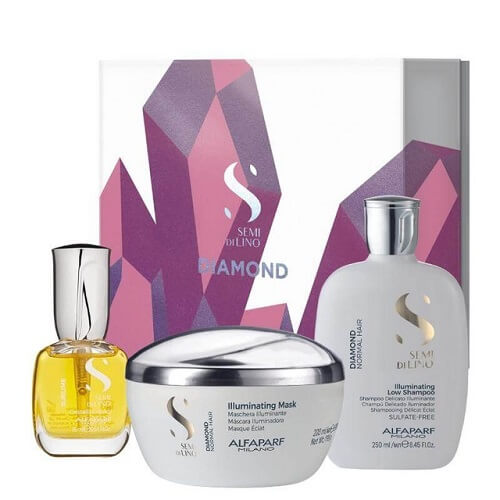 You may wonder, which Alfaparf shampoo is best for achieving shiny hair? This set is the absolute go-to if you want hair with a diamond-like sheen. Complete with a shampoo, mask and Cristalli Liquidi hair oil, this range is packed with key ingredients such as argan oil and a multivitamin complex to deliver unbeatable shine to your hair, illuminating it for up to 24 hours! So if your strands are looking a little dull and lacklustre, get thee to the Diamond Holiday Gift Set!
Semi Di Lino Moisture Holiday Set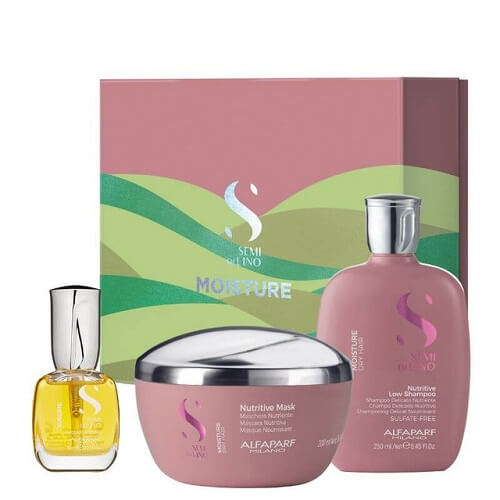 This set is most ideal for those who have dry hair. The moisture range has been developed with special ingredients such as Nutri-Sugars, which are micro-molecules with moisturising and nourishing properties. Think of it as giving your hair a much needed drink! The whole range is designed to nourish and soften your locks, and this shampoo, mask and Cristalli Liquidi set will have your hair hydrated in no time.
Semi Di Lino Volume Holiday Set
Got hair that's fine, flat and limp? Meet the Volume Holiday Set. Complete with a shampoo, mousse and cristalli liquidi oil, it features a Volume Boost Complex which has been formulated to promote the appearance of fuller, thicker hair. It's also climate-proof due to active ingredients keep your hair optimally hydrated and protect it during changes in weather, depending on humidity and temperature.
Semi Di Lino Reconstruction Holiday Set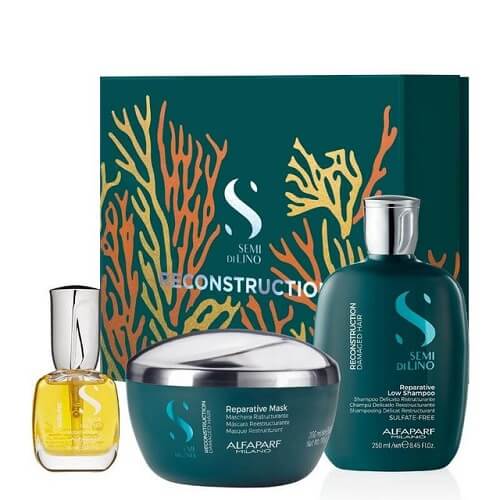 This set is for those whose hair is weak, damaged and sensitised. This shampoo, mask and Cristalli Liquidi trio is formulated with Bamboo Marrow and Cortex Repair, a unique blend of restructuring ingredients that are rich in silicone. The hair fibre will be strengthened and you'll be well on your way to healthier, more resilient hair!
Semi Di Lino Smooth Holiday Set
Can't seem to tame the frizz? Introducing the Smooth Holiday Set, which holds everything you'll need to smooth your strands! With a shampoo, mask and Cristalli Liquidi oil, flyaways will be put in their place thanks to the active ingredient Frizz Defeat Protein, which offers anti-frizz protection. It's also climate-proof, so you needn't worry about your hair when the humidity hits!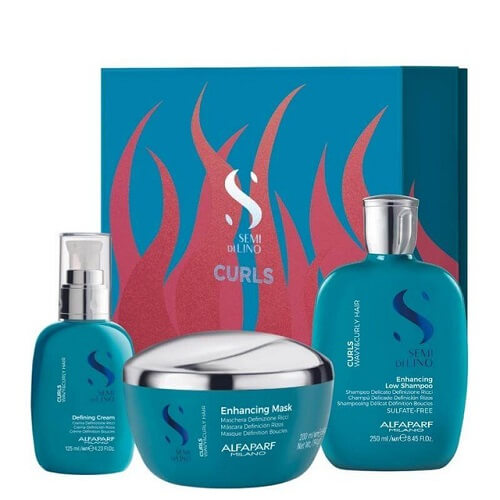 Curly girls will rejoice at this specially designed set for their hair type! The combination of shampoo, curl enhancing mask and Cristalli Liquidi will define, hydrate and control so that you can embrace your hair's natural shape and texture. Whether you've got beachy waves or corkscrew curls, you're going to wonder where the Alfaparf Curl range was all your life! With key ingredient Manketti Oil, the hair's fibre will be hydrated and nourished, and your strands gently cleansed.
You Asked, We Answer!
Are Alfaparf products cruelty-free?
We're pleased to share that none of Alfaparf's products are tested on animals.
Is Alfaparf Sulphate-free?
Alfaparf shampoos use the formulation of "Low Shampoos", which are designed without ingredients such as sulphates, helping to gently cleanse the hair.
Is Alfaparf vegan?
Alfaparf's Curl, Volume and Smooth sets are vegan.
Now for a difficult choice – which one will YOU choose this Christmas? Will you opt for a dazzling sheen with the Diamond set, or perhaps a sleek style with Smooth? And if you adore the limited edition designs on the boxes (which are perfect for storing your clips, grips and scrunchies, btw!) you may even want to collect them all…
Shop the ENTIRE collection now at BeautyFeatures.ie, and place your order before 2pm to avail of Next Working Day Delivery Nationwide from our warehouse in Co. Wicklow!
Recent Posts
Are you itching to try retinol but have sensitive skin? Or perhaps you're currently pregnant or bre …

We're thrilled to announce the launch of Dermalogica's NEW Phyto Nature Oxygen Cream! A reawake …

It's the emerging trend that's on the tip of everyone's tongue, and one we're all going wild for in …