Losing weight takes time, willpower, sweat, tears, Lycra (eww!) and bucket loads of dedication. However, appearing like you've lost weight, well, that's something than can be achieved in just a few minutes. Yes ladies, just as we select clothes that flatter and shape the figure, there are beauty tricks up our sleeve that can also flatter the appearance and make us look, well – not quite 2 stone lighter but definitely worthy of a compliment or two!
SLIMMING BEAUTY TRICK #1 Choose the correct hairstyle
Have you ever heard the phrase the shorter the hair the wider the hips? Well for ladies who are undecided between keeping it long or chopping it short, top stylists suggest that keeping hair long definitely elongates the face. If your partial to an asymmetrical bob, keeping it longer at the back and shorter at the front but parted in the middle will again make the face appear slimmer. For those of us with more rounded faces, a side part will soften the face by creating an off centre look. Heavy bangs will also make the face appear rounder whilst poker straight locks tend to make the head appear smaller which widens the face! Phew who knew there was a science to a hair style? Heightened Up dos, hair with volume and height and layers surrounding the face will draw the eye upwards and create a slimmer silhouette.
SLIMMING BEAUTY TRICK #2 Body sculpting serum
Use a body sculpting serum such as Cowshed Slender Cow Body Sculpting Serum to tone, firm and detoxify the body. Whether your thighs, bottom or arms prove to be your area of concern, a body sculpting serum will help increase metabolism to burn fat in those areas. Apply twice a day by massaging a generous amount onto those bulging bingo wings or that bountiful bottom by using kneading movements to encourage penetration and effectively break down toxins. Remember there's always hot Yoga classes if all else fails!
SLIMMING BEAUTY TRICK #3 Contouring & highlighting
Learning to contour and highlight your face in order to make it appear slimmer can be a daunting task, whether it's making the face appear thinner, the nose longer or highlighting your cheekbones into model territory. However contouring is the quickest and easiest trick to alter the overall look of your face. The face is a combination of light and shadows by applying a darker contour shade it will create false shadows which give the appearance of depth. Always remember to choose a shade two shades darker than your skin tone, apply under the cheekbones; a small amount under the chin and to thin the nose apply each side beginning at the bridge of the nose. If using a cream use your fingers and if a mineral powder use a brush for best results.
SLIMMING BEAUTY TRICK #4 Tongue trick
Instagram and Facebook are awash with photos of ourselves that we hate – with a passion! Cries of "you took the photo and I wasn't ready" to desperately trying to untag ourselves in group shots! Ridding oneself of the dreaded double chin in photos is a lot easier than going 2 months without food! Replace the horrific head title or turtleneck with this simple little trick. Place your tongue on the roof of your mouth as you smile! Yep it's that easy, by holding your tongue flat just before your teeth, its tightens the muscles in your neck naturally preventing the appearance of a double chin!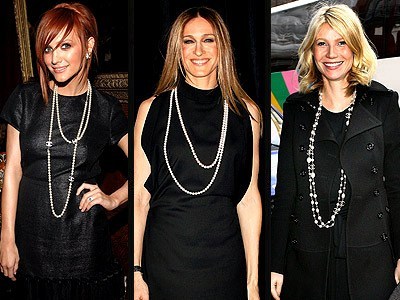 SLIMMING BEAUTY TRICK #5 Use Jewellery Strategically
Summer and long warm nights just scream out for accessories and none so helpful in appearing slimmer than your jewellery. A gorgeous long necklace adds length to a shorter neck and distracts the attention away from your hips and to the front and centre of the body. Mid chest bibs or big heavy embellished pieces say look at the face and not the middle. A collection of sparkly cuffs, stacks of bangles and cocktail rings will draw the eye to the wrists instead of the upper arms.
SLIMMING BEAUTY TRICK #6 Soak in Mineral Salts
Bathing in mineral salts can help to reduce bloating, as the magnesium sulphate in the salt draws out toxins, cellular waste and any excess fluid from the body. Even if bloating isn't a concern you may still notice a difference in your waistline. Simply add a small amount of mineral salts to your regular bath and soak for around 10 minutes (soaking longer is only wishful thinking –you won't end up thinner just very prune like!). For further tips on looking slimmer for summer read our 10 ways to look slimmer for summer.
Have you ever tried any of the above tricks? Do you have any other beauty tips for looking slimmer?
Beautyfeatures.ie Recommends:
Dermalogica Hydro-Active Mineral Salts

Moroccan Oil Volumising Mousse

Cowshed Slender Cow Body Sculpting Serum

Thalgo Ocea Drain(10 day detox & purification)