Who doesn't love a beautiful palette of sparkly, shimmering shadows? And who doesn't love a beauty product that can multi task? The sophisticated (and highly pigmented) Clarins Eyeshadow Palette has winged its way into the BF office in all its pearlescent, luminous glory and we pondered the question, what else can this collection of show stopping colours and tones do? We know there's a gorgeous and on trend smoky eye in there and it offers a dazzling selection of 10 wearable shades and tones in matte, satin and pearl finishes, ranging from intense gold to sultry chocolate and many more but what other magical makeup moments await? Read on to discover how your Clarins The Essentials Mineral Eye Makeup Palette can take your beauty look one step further, and save you some hard earned euros at the same time!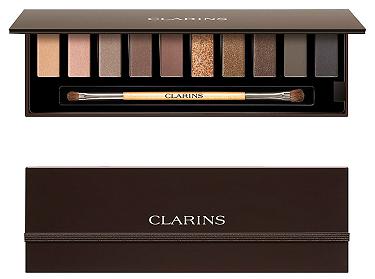 TRICK #1: LINE YOUR WATERLINE
All those with a passion for beauty will have heard of the benefits of lining your bottom waterline with white or even nude eyeliner. This little trick of the trade gives your eyes the appearance of being more awake and creates the illusion of big beautiful peepers. However instead of splashing the cash, save your money and make use of the lightest shade in your eyeshadow palette. Using a flat-sided eyeshadow brush gently tap one side into your eyeshadow then carefully press it along your waterline.
TRICK #2: FILL IN YOUR BROWS
The Clarins The Essential Eye Makeup Palette features beautifully pigmented shades and none more so than the warm chocolaty brown tones which are perfect for those looking to fill in sparse brows. It's essential for the shadow to be matte as a satin or pearlescent shade will ensure a shimmery brow and draw unwanted attention to any imperfections. Apply using a flat eyeshadow brush and lightly feather it along your eyebrow, filling in gaps as you go. Who needs an eyebrow pencil? For further reading on Clarins check out our blog Show us your Clarins.
TRICK #3: DEFINE YOUR EYES
The beautiful darker hues of brown and black in your palette are not only the perfect shades for a smoky eye but they can also multi task as a liner to define your eyes. Using a flat eyeshadow brush, tap it into the darker shade and trace the brush gently across your upper lash line. Carefully use the brush to blend the colour and then apply your eyeshadow of choice as normal.
We know any woman worth her curling mascara wand will want to arm herself with the Clarins 'The Essentials Mineral Eye Makeup Palette', seriously chic and offering a sophisticated take on the run of the mill eyeshadow palettes of old, this collection of soft, buttery, shimmering and gorgeously pigmented colours will see you through Autumn and into Christmas in pure style. Boasting a double ended application brush and eco-friendly recyclable packaging, Clarins have created a forward thinking palette with over 93% of powder formulas coming from a natural origin, that has been designed to highlight and define and features a show stopping shade of gold that will make a serious style statement this Christmas!