Clearogen Anti-Blemish Set
Each set is a 2 month supply
Clearogen has a 95% success rate
Intoducing Clearogen, a revolutionary 3- step anti-blemish skincare solution clinically proven to effectively reduce and clear spots and blemishes while preventing the formation of future skin breakouts. Designed for all skin types, Clearogen is ideal for both men and women and when used daily on a regular basis will deliver visibly transformative effects within 30 days and a significant improvement within 60 days!
Unlike other skincare treatments, not only does Clearogen clear the skin and reduce oil production, but it also works to control DHT, the hormone responsible for overproduction of oil through the sebaceous glands which is the main cause of skin debris, bacteria and blemishes. Cleanse, tone and soothe your blemished, acne prone skin with Clearogen's 3-step treatment programme that features:
Clearogen blends natural botanical ingredients such as lavendar, aloe vera and chamomile extracts with active ingredients including salicylic acid and sulphur, effectively addressing the cause of the blemishes whill ensuring the healthy healing of your skin.
Clearogen clears the skin and reduces oil production, however most importantly controls the hormone DHT which is responsible for putting the sebaceous glands into overdrive.
The Clearogen 3-Step Anti-Blemish Treatment Kit features a cleanser, toner and lotion.
The Clearogen 3-Step Anti-Blemish Treatment Kit works in 3 ways:
Clearogen Cleanser

: The Clearogen Cleanser lathers gently into a foam that cleanses the skin of excess dirt, oil and make-up from the surface of the skin, leaving it refreshed and revitalised.
Clearogen Toner

: Working deep into the pores, reducing pore size, the Clearogen Toner stops dirt and bacteria from becoming trapped, as it reduces redness and irritation making your skin look calmer and visibly smooth.
Clearogen Lotion

: The Clearogen Lotion contains 3% sulphur that clears infection and bacteria, the main cause of spots and blemishes and a combination of natural ingredients that work with your body to inhibit DHT production and prevent the formation of new spots from occuring.
We recommend that you use the Clearogen 3-Step Anti-Blemish Treatment programme everyday for optimal results. After a 30 day period of continuous use your skin will appear smoother, calmer and less oily to the touch. After a period of 60 days your skin will be significantly improved as existing blemishes will have cleared and you will experience far less new spots forming. After 60 days of regular use, you may use Clearogen less frequently in order to maintain healthy levels of DHT and oil production, ensuring your skin is kept beautifully clear, clean and healthy.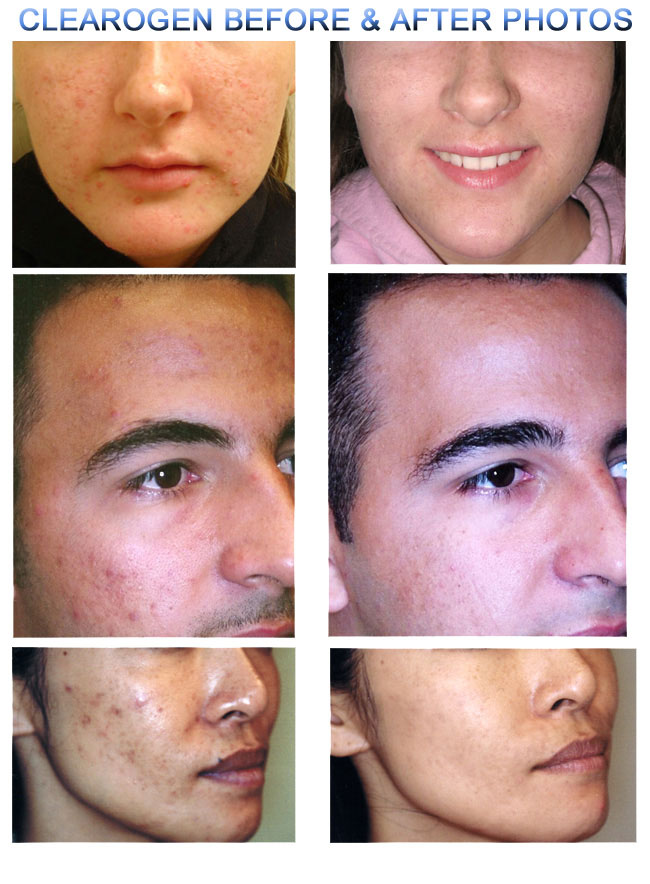 Clearogen dermatologists suggest only using the toner and lotion on problem areas which will then save on product.