Black Friday is here in all it's retail glory and as the sound of checkout tills ring out around the country and thousands of manicured fingers pound the keys leaving a trail of smoke and unopened credit card statements in their wake – just breathe, don't panic and enjoy the purchasing!
Traditionally a huuuuge deal across the Atlantic, Black Friday and Cyber Monday have etched their presence on calendars across the 4 provinces, creating the retail sectors most profitable day in the lead up to Christmas. A new concept to most of us it quite conveniently overlaps with what is already one of the busiest shopping weekends throughout Ireland, so it's a fair assumption that things stand to get 'cray-cray' over the next few festive filled days.
The team at Beautyfeatures.ie were delighted to get a taste of the Black Friday action and are delighted to offer all customers a whopping 25% discount when using the code CYBER25 (excludes Dermalogica). So as you ponder and purchase with gleeful abandonment we've got a couple of tips to ensure your Black Friday and Cyber Monday experience is a fruitful one – read on.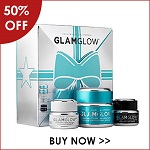 Be Decisive – Fill Your Wish List
There will literally be thousands of beauty lovers ready to pounce on those sought after serums, skin care saviours, hair care heroes and makeup must haves, so it pays (literally) to know what you want in advance. As many of us will be sitting at desks as the sales and offers begin, be mindful that some websites may experience issues due to the massive influx of customers logging on at the same time. The dreaded egg-timer is guaranteed to make an annoying appearance (not Beautyfeatures.ie! We can't wait to make sure you get exactly what you want!) and you may just notice those lusted after products silently disappearing from your shopping bag as products sell out. Speedy fingers are the key, be decisive and don't let the refresh button out of your sight.
Don't Burst the Budget!
Before you begin set yourself a realistic budget, this is so that you don't end up over spending and any savings you may make will be spent on something you didn't really want or need, defeating the purpose.

Changed Your Mind? Know Your Returns Policies
Whilst most retailers would be reluctant to alter their returns policy for the sake of this weekend, it pays to check before you commit and hit the submit button. Place all your items in the virtual shopping basket then open a second window and take a peek at the policy, it may just save you a lot of pain and buyers remorse.
So start your Black Friday experience with a visit to Beautyfeatures.ie. Click on Black Friday to avail of our amazing offers, discounts, sales and deals and don't forget this is the perfect opportunity to grab that lusted after deal or gift set and stuff that Christmas stocking with luxury gifts for the whole family.
Oh, why can't every day be Black Friday?